[Total: 4 Average: 2.5/5]
Once Again Bollywood Vs Hollywood
This week again, number of movies are being released at box office. These include crime thriller Udta Punjab, fantasy drama Dhanak, action romantic Junooniyat & romantic drama Luv U Alia from Bollywood and thriller Now You See Me 2 from Hollywood. Among them, Udta Punjab has highest buzz because of its censorship controversy and it is expected to get far better than others.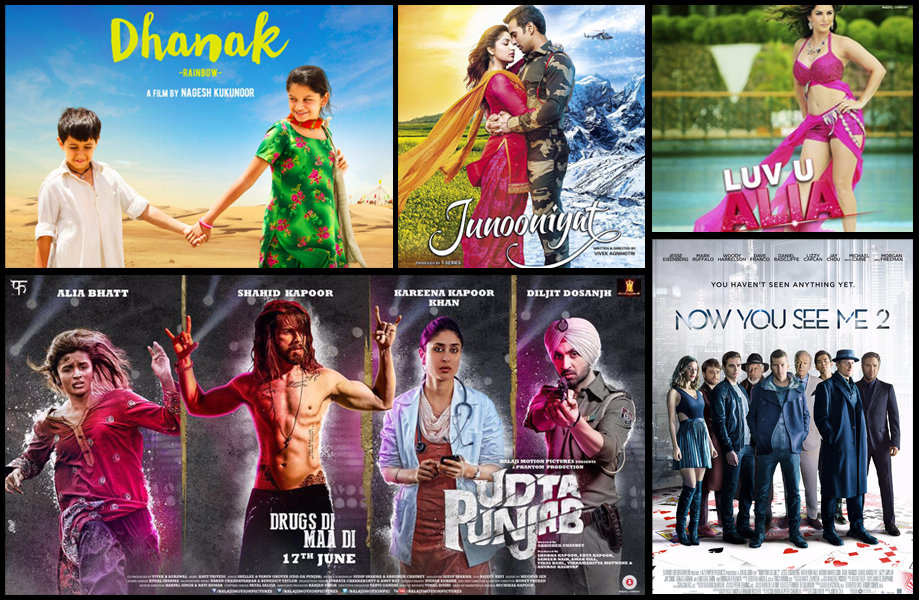 Dhanak also has little hype among audience because of simple & innocent story and expected to do well after the release but in limited regions. The second installment of Hollywood's very famous thriller franchise Now You See Me can divert mass towards itself if its content clicks. Junooniyat has nothing but known faces of Bollywood and decent music. Luv U Alia is at the last step with the score of zero.
Udta Punjab is an Indian crime thriller movie, directed by Abhishek Chaubey and produced under the banners Balaji Motion Pictures and Phantom Films. It features Shahid Kapoor, Kareena Kapoor Khan, Alia Bhatt and Diljit Dosanjh in lead roles. Story of the movie deals with the problem of drug addiction in youth of Punjab state. (Verdict: Watchable)
Now You See Me 2 is an American caper thriller movie, directed by Jon M. Chu and backed by Bobby Cohen, Alex Kurtzman and Roberto Orci under the banners K/O Paper Products and TIK Films. It is the sequel of 2013's Now You See Me and features Jesse Eisenberg, Mark Ruffalo, Woody Harrelson, Dave Franco, Daniel Radcliffe, Lizzy Caplan, Jay Chou, Sanaa Lathan, Michael Caine and Morgan Freeman. (Verdict: Watchable)
Dhanak is a fantasy drama movie, directed by Nagesh Kukunoor and produced by Manish Maundra, Elahe Hiptoola and Nagesh himself under the banners Drishyam Films & Kukunoor Movies in association with PVR Cinemas. It features the two kids Hetal Gadda and Krrish Chhabria in lead roles. (Verdict: Watchable)
Junooniyat *Postponed to 24th June* is an action romantic movie, directed by Vivek Agnihotri and produced by Bhushan Kumar & Krishan Kumar under the banner T-Series Films. It features Yami Gautam & Pulkit Samrat in lead roles. (Verdict: Skippable)
Luv U Alia is a romantic drama movie. directed by Indrajit Lankesh and produced by Sammy Nanwani under the banner Sammy's Magic Cinema in assication with IGI Resonance I Pal Enterprises. It features V. Ravichandran, Bhumika Chawla, Chandan Kumar, Sangeita Chauhaan and Sunny Leone. (Verdict: Skippable)
How does it make you feel?