[Total: 5 Average: 3.2/5]
Total Domestic & Overseas Collection of Baahubali 2 in 3 Days of Release
From the very day of its release, the mammoth Baahubali 2 is storming at box office and has set many immortal records, which are quite impossible to break for any upcoming biggie in India cinema. With fantastic start across the globe on Friday, the movie remained super strong over the opening weekend and grossed over 500 crores total at worldwide box office.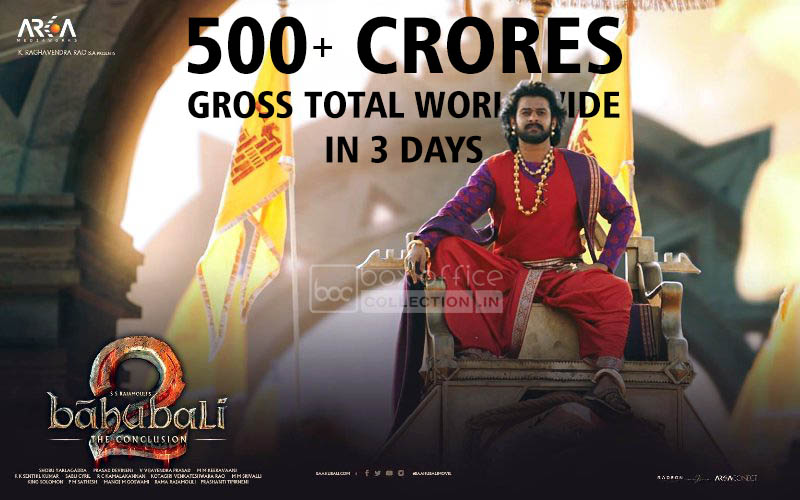 At domestic box office, SS Rajamouli's directorial Baahubali 2 reported the business of total 303 crores nett / 386.11 crores gross in the opening weekend, that included 121 crores of Friday, 90.50 crores of Saturday and 91.50 crores of Sunday from 6500 screens across the country including all the versions (Telugu, Tamil, Hindi and Malayalam).
Baahubali 2 has around 4000 screens nationwide for it's dubbed Hindi version, from which is fetched the business of total 128 crores in the first weekend; included 41 crores of Friday, 40.50 crores of Saturday and 46.50 crores of Sunday. While rest 175 crores (Fri 80cr, Sat 50cr, Sun 45cr), it generated from Telugu, Tamil & Malayalam versions domestically.
For the total 3-days nett collection of Baahubali 2 i.e. 303 crores, Andhra Pradesh & Telangana made a contribution of around 94 crores, while around 30 crores from Tamil Nadu, 15 crores from Kerala and 35 crores from Karnataka.
From overseas market too, this magnum opus performed excellent and reported the business of around 125 crores, that included 68 crores approx. from North America (USA & Canada), 24 crores from UAE/GCC, 1.50 crore from New Zealand, 3.50 crores from UK, 6.50 crores from Australia and rest from other international circuits.
So at worldwide box office after the opening weekend, total collection of Baahubali 2 recorded as 527.14 crores gross. With it, this epic action drama created another immortal record to enter in 500 crore club in just 3 days of release globally.
Baahubali 2 – Hindi (In India)
Day 1: ₹41 Cr
Day 2: ₹40.50 Cr
Day 3: ₹46.50 Cr
Total: ₹128 Cr Nett / ₹177.78 Cr Gross
Baahubali 2 – Telugu, Tamil & Malayalam (In India)
Day 1: ₹80 Cr
Day 2: ₹50 Cr
Day 3: ₹45 Cr
Total: ₹175 Cr  Nett / ₹224.36 Cr Gross
Baahubali 2 Weekend Total- All versions (Worldwide)
India: ₹303 Cr Nett / ₹402.14 Cr Gross
Overseas: ₹125 Cr Gross
Total:  ₹527.14 Cr Gross
How does it make you feel?