Bang Bang vs Haider
Opening Day Performance
Hit by one of the two top awaited movies of Bollywood film industry this year, both Bang Bang and Haider have finally released on box office today. After a long period of creating buzz in the media and excitement among the audience, these two long awaited films entered the silver screens together on same day today. The audience was excitedly waiting for both the movies so huge competition could be seen easily outside the theatres and cinema halls between these two films. Talking about the performances given by both flicks, then both Bang Bang and Haider got amazing audience response and perfumed outstandingly on their release day. How so ever, it is not that suitable to compare these two films due to their different genres and target audience, but still the figures reveal that at the end of first day, Bang Bang took over the lead in comparison to Haider movie.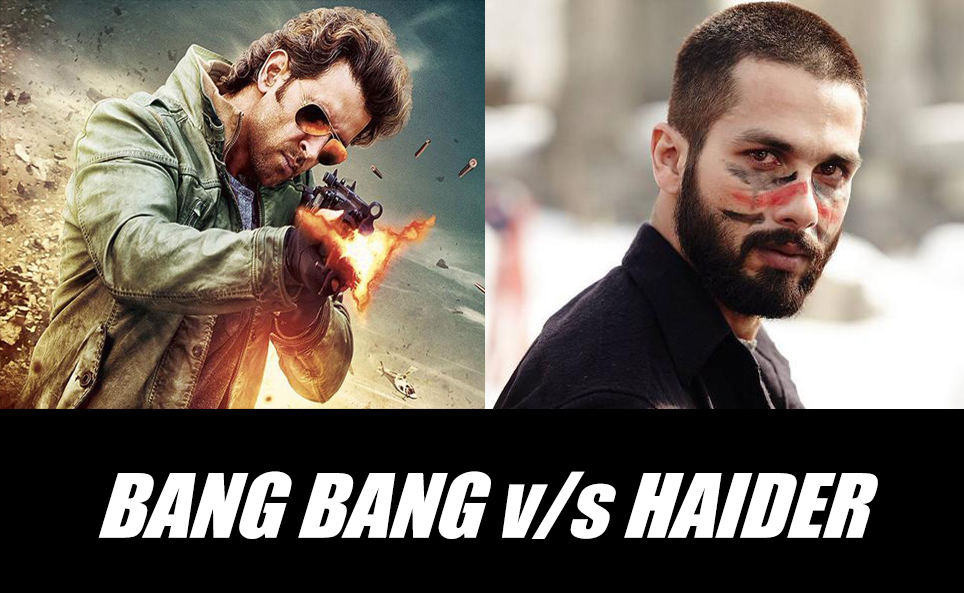 First Day Business
Releasing on the occasion of Gandhi Jayanti, both films got good advantage of the day being an almost holiday. Though both the films totally different from each the whether we talk about the genres, target audience, number of screens, star power etc; but still everyone is looking forward for the competition between the two films on their opening day. Where Haider attracted all the youth who loves to see new chemistries like between Shahid Kapoor and Shraddha and also different stories, they went for Haider and all those who love star power and huge action with high rated budgets, they opted for Bang Bang. After a good race between these two films, the lead was finally taken by the big budget movie Bang Bang how so ever it must not be said that Haider remained low anywhere. But on the whole, Bang Bang (27.54 Cr) reported higher income and response in comparison to Haider (6.14 Cr) on its first day of release.
Read:
How does it make you feel?