Holiday Released Today: Movie Review
Finally the wait of Akshay Kumar's fans is over, and his awaited movie Holiday has been released out today on 3500+ screens worldwide. Holiday got 400+ screens in overseas and 3000+ screens in India, movie is running successfully everywhere. Getting wonderful response from audience and the only reason behind this is Akshay Kumar. Audience loves to see him in action and the movie Holiday is very well combination of Action, Love & Dance.
Dedicated to the
Team Members of
Indian Army & Their Families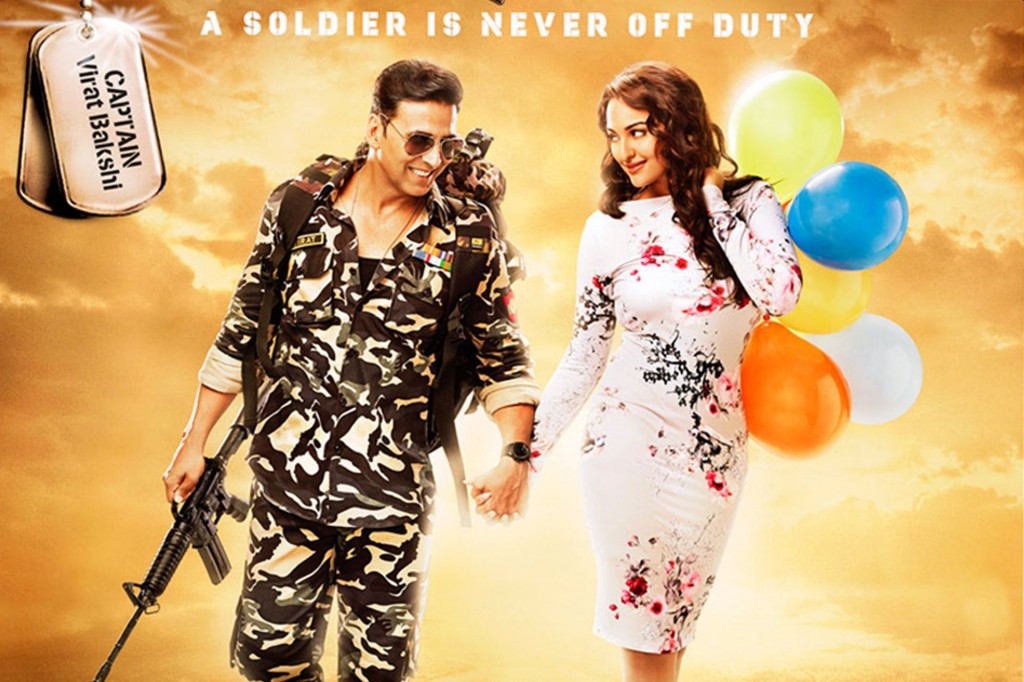 From the morning time, crowd on the ticket windows was demanding for only Holiday. After the first show when we asked to some people about the movie, they happily answered "Wonderful, Akshay Kumar was good". This clearly reflects that Holiday is one man show i.e. our Khiladi Kumar and for the fans of Akshay is it the wonderful gift of year 2014. On asking about the on-screen chemistry of Akshay Kumar with Sonakshi Sinha, then we got very favorite answer "Katrina Hoti Toh Accha Hota"- but what we can do guys, its director's choice. We have to compromise with her only, and wait for his next movie.
Akshay Kumar is having large male fan followings than females, and the movie Holiday is having some patriotism touch so fans are very excited and loving it positively.
STORY LINE
Begins with Akshay Kumar who is captain in Indian Army and also secretly working as a DIA (Defense Intelligence Agency) agent. He has to dismember sleeper cells active in the country along with his 11 members team and thwart their attempts at carrying out terrorist attacks in the country. Meanwhile, his parents take him to meet Saiba (Sonakshi Sinha), as a part of an arranged marriage proposal. While initially it doesn't work out between them, with Virat assuming Saiba to be a shy and reticent person, he eventually gets to see a brighter, enthusiastic and feistier side of her. Sonakshi's character is an athletic girl who is even seen knocking a woman out in a boxing match.
The chemistry between both Akshay and Sonakshi is crackling, the actions are well-shot, the story line is promising which all-in-all makes the movie gripping but the long runtime is giving it some negative points. Sonakshi looks fit and toned down in the movie.
ACTION SEQUENCES
Actions scenes are very well shot, chasing scenes on Mumbai roads in heavy traffic etc. all sequences are worthful. As we know Akshay Kumar is one of the best action hero in Bollywood so commenting on his action timing is not good.
STAR RATING by BOC INDIA
Overall, Holiday is a worthful movie having good storyline, actions and starcast. And as per the review report from our analysts and public response, Holiday deserves 4/5 stars (3.8).
---
Why to Watch?
For Akshay Kumar's Fans:

The movie is having everything you like in Akshay- Action/Comedy/Dance.
Among weak movies, Holiday is very strong option starring superstar Akshay Kumar. The movie is having good patriotism touch and yes a good family show.
Why not to Watch?
There is not any logical reason for it, but if you don't have patience to watch Akshay Kumar's movie for around 3 hours then do not go.
Reviews by External Critics
By- TARAN ADARSH (Bollywood Hungama)
On the whole, HOLIDAY – A SOLDIER IS NEVER OFF DUTY is a slick action-thriller that keeps you engrossed, enthralled and captivated all through, thanks to its fascinating premise and a watertight, razor-sharp screenplay. Go for it!
Rating: 4/5
By- Subhash K Jha (IANS)
Akshay's character's basic argument that terrorism can only be countered when the counter-terrorists are as fearless about losing their lives as the terrorists, is put forward with such gusto and conviction, we really can't argue with the plot premise.
Rating: 4.5/5
By- Madhureeta Mukherjee (Times of India)
While the core plot is compelling and finely directed, the side-tracks – like bombs needing to be deactivated and the romantic angle, waste screen-time and the songs infiltrate the plot too often. The film is too long and needs a taut edit. It has flaws too, but doesn't fail to entertain.
Rating: 3.5/5
By- KOIMOI
The absorbing pace, the intelligent thinking of the proceedings, Akshay Kumar​ and mostly the gratuitous action sequences.
Rating: 3/5
Must Read-
How does it make you feel?