19th January "Based on Kashmiri Pandits"- Shoot Completed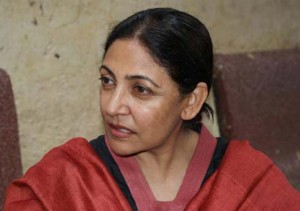 After a fair time, some good scripted serious film is hitting the screens in the coming days. The upcoming film named
19th January
has finally been completed to portray the real incident of the Kashmiri Pandits on 19th January 1990. After the 25 years passage to the real incident, the film maker or director Sanjay Amar has presented this film. It has been produced jointly by Sanjay Amar, Deepmala Tanwar and Mumtaz Ahmad under the banners of Blueberry Entertainment and Amar Chand Motion Pictures.
This serious drama genre featuring almost entire star cast and crew belonging to the real incident has got some actors too like Deepti Naval, KK Raina and others. We have seen KK Raina in recent movie Zed Plus also which has too a sensitive issue movie.
19th January is set to be release in coming months as the shooting has been completed currently so there is some time to bash the screens. It is a though not a big budget film and is set to hit decent number of screens in limited areas only.
Film's last song which was the title theme was completed just few days ago and has been based on Sufi rock music by a band from Pune named Highway 61. The lyrics have been inspired from the great and popular poet Allama Iqbal and few others. More emphasis has been given to the story as it is a film with good content and message so music has also been kept very connective and suitable.
The film has already gained wide publicity and favors from the audience much before its release due to influential and serious genre. Being a small budget film, it still has captured audience attention these days. Star cast of film have also promoted it enough on television and social media to get favorable audience response before its release. Public seems very anxious and excited on twitter for watching this movie reviving the pain of Kashmiri Pandits on that fearful and dreary night. Film portrays the story of the bias treatment done to the whole humanity and not only a particular sect in Kashmir that day.
It takes guts to picturize a nearly real film on real sensitive issue and entire crew is happy and satisfied with the completion of the film now. Comments and status being updated on Twitter are quite favorable for the film and shows audience's positive reaction for 19th January.