In the recent episode of a weekly celebrity chat show Famously Filmfare Tamil by MX Player, the well-known actress Tamannaah Bhatia has revealed a lot about herself. The milky white beauty told that she would like to break her no-kissing contract for Hrithik Roshan.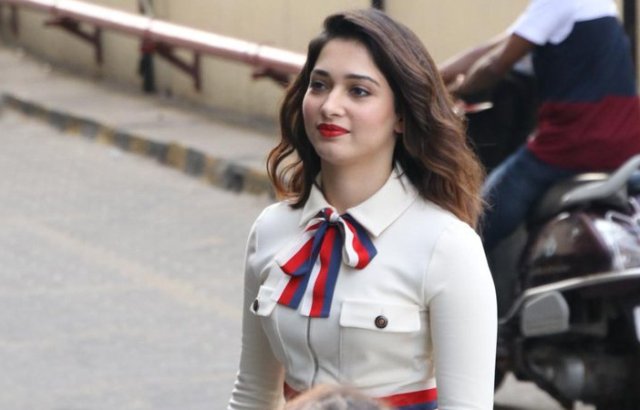 How Tamannaah Bhatia learned Tamil and Telugu?
Quote- I learned Telugu from my make-up artist. But Tamil, I learned from my dialogues. In dialogues, the grammar would always be correct, because they're speaking it for the film. So, inevitably, the language and grammar would be right. The first director I spoke a lot to was Lingu Sir.
He is comfortable in Tamil. When I could not communicate with him, I used to feel bad. So I used to find ways to learn how to talk to him. So that's when my Tamil got better and then I kept learning
Tamannaah – the 'sleeping beauty'
Quote- I was extremely tied down with a lot of projects and I was doing some 3-4 films at the same time. And Lingu sir, when I used to go to 'Paiyaa' set, he'd say, 'Do your makeup first and then sleep' He used to ask me to go to sleep. After 2-2.5 hours, he'd say, 'Now your face looks good. You look bubbly. Come now, let's take the shot'
Guess who actually first told Tamannaah that she will make it big in the industry
Quote- Dhanush, he was the first actor to tell me 'You'll make it big'. Dhanush is that one person when you're acting with him, you can't tell if he's speaking the dialogue or if he's making a normal conversation; I've gotten confused many times. He's always taken his physical appearance and made that his strong point because he's so relatable and people think he's just like them
Baahubali happened to me when my career was slightly at a low point: Tamannaah Bhatia
Quote- Baahubali happened at that time when my career was sort of, I mean if I have to be honest, slightly at a low point. All the Hindi movies I did at the time, they were all really big films, but they did not work. And Rajamouli sir spoke to me about 'Baahubali'.
At that time they'd been shooting the film for a year and a half, I thought maybe it's like a special appearance. I met Raj sir, such a beautiful characterization. And I don't think we've had such a portrayal in Indian films. For Raj sir's vision and conviction he had for the film and for me, I will always be very thankful to him
Tamannaah was never going to be a part of Baahubali 2!
Quote- When I was signed for the film, I wasn't even in Baahubali 2. I was never a part of part 2. I was not supposed to be a part of part 2. But, after the first came out and did so well and in the end, it's a culmination of all the characters, so that's exactly the reason why I was in the film.
Tamannaah's thoughts on working with Virat Kohli
Quote- I think we spoke four words during the ad film, that's it. After that, I've never met or spoken to Virat. But, I must say he was better than most of the actors we work with. And it was quite intimidating
Tamannaah – the limit of laziness!
Quote- I'm too lazy, I have brought a sneaker that looks like a sneaker from the front and from behind it's not a sneaker. It's too much work. Who'll tie the lace, who'll pull the shoe up from behind? I don't even want problems like that in my life"
The two things Tamannaah doesn't know how to do!
Quote- I don't know how to swim and ride a bike. I want to swim and ride a cycle
Tamannaah's fan girl moment!
Quote- I am a huge Hrithik Roshan fan. I recently bumped into him and I was so stupid. I was like 'Hi, I am a big fan and so nice to meet you' and then I was like okay I didn't know what else to say. And then he walked a little and looked back. He was like, 'You want a picture?' and I was like 'Yes! I want a picture. I felt like a 16-year-old when I met him for the first time'
I don't kiss on-screen basically. So that's actually a part of my contract. But I keep joking with my friends, with Hrithik Roshan, yay! I would.