Airlift is leading over Kyaa Kool Hain Hum 3, in Pre-Release Hype
This Friday there are two much awaited movies going to clash on same day i.e. on 22 January 2016. Well one is Akshay Kumar starrer intense performance and story based venture Airlift based on the true event and other one is the adult comedy sequel starring Tusshar Kapoor and Aftab Shivdasani with rest of the star cast. As both movies are sharing same release date hence it is expected to affect performance of each other.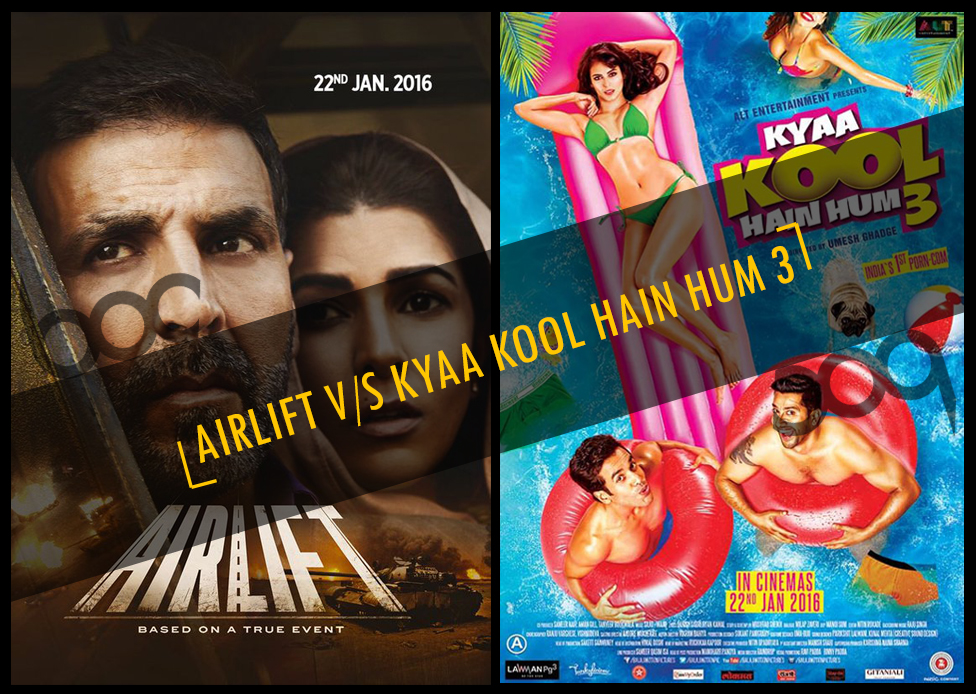 Obviously Airlift has much higher hype among audience than Kyaa Kool Hain Hum 3 owing to its serious script and powerful performance but still the opposite one i.e. KKHH3 has something to divert some portion of audience towards itself. The youth part of the audience might be going for KKHH3 over Airlift for entertainment quotient.
Airlift is an intense movie based on real event so the audience who wants to laugh, will prefer KKHH 3 over this. But Airlift on the other hand has got that spark element and value in it that is driving audience towards it. It doesn't seem KKHH 3 will take over Airlift at box office but it will cause some loss to it up to an extent collection wise.
We always see many movies colliding same day and then suffering loss where the biggest clash of 2015 between Dilwale and Bajirao Mastani was a proof in itself. But we see in case of Airlift and KKHH3 that both have different targeted audience and KKHH3 theme is limited to a lesser part of viewers only so Airlift is expected to rule the box office.
Still, nothing can be said as sure as we never know in Bollywood what might happen and what audience reacts exactly to any movie. But seeing Akshay Kumar's previous hit list of movies back to back like Holiday, Baby and Gabbar is Back then Airlift also seems to add more stars to his performance.