Shivaay to be Released on Diwali 2016 & Son of Sardaar 2 on Diwali 2017
The Bollywood serious cum action hero Ajay Devgn is finally coming up with two most awaited movies of coming years. Already the movies are in hypes due to Ajay Devgn starring in them but it is more in buzz due to some different facts too. Though we have seen that by now most of the time the Khans of Bollywood film industry have ruled the festive seasons especially the Diwali festival every year, but this time the trend is going to change soon.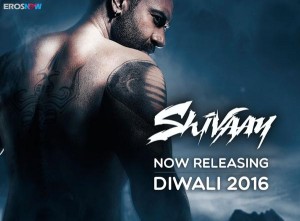 Ajay Devgn tweeted himself on twitter about his two most awaited movies –
Shivaay
and 
Son of Sardaar 2
releasing on the occasion of Diwali in coming 2 years. Yes, this is true as Ajay will be rocking the box office and film industry on Diwali for consecutive two years 2016 and 2017.
Where Son of Sardaar 2 is the sequel of the previous hit installment Son of Sardaar, this one is being awaited more excitedly than the prequel, on the other hand Shivaay is totally a new and unique story for the audience starring their favorite versatile action here again – Ajay Devgn.
This Diwali of 2015 has been booked by Salman khan for his love story Prem Ratan Dhan Payo which is expected to get a 5 days extended weekend advantage due to the festival and Sunday falling by & by. Ajay Devgn faunally booked the next two Diwali festivals in his name already and the official declaration has been made by Ajay Devgn himself no twitter yesterday.
It is very interesting to see that how does a non Khan oriented Diwali comes out in the next two years. We have seen so far that every Diwali or Eid a Khan starrer movie releases and gets blockbuster opening plus overall lifetime performance. This time it seems as if Ajay Devgn will be ruling the screens for next two Diwali festivals with the release of Shivaay & Son of Sardaar 2.