Amyra Dastur last seen in acclaimed director, Leena Yadav's Netflix Original 'Rajma Chawal' has garnered a lot of praise and eyeballs for her performance in the slice of life film which also stars Rishi Kapoor.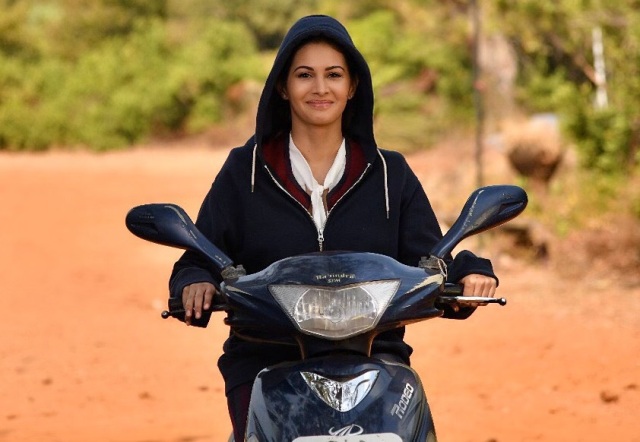 The South Bombay Parsi starlet has a very interesting line up of films this year – 'Mental Hai Kya' with Kangana Renaut & Rajkumar Rao, 'Prassthanam' with Sanjay Dutt, Ali Fazal, Jackie Shroff & Monisha Koirala, 'Made In China' with Rajkumar Rao & Boman Irani and finally 'Koi Jaane Naa' with Kunal Kapoor.
Amyra is known for her eagerness to switch up her look for the characters she has taken on. Even in the 2017 'Kung Fu Yoga' where she starred alongside the superstar, Jackie Chan, she underwent months of vigorous training in gymnastics and martial arts to prepare for her role in the film.
This time the bubbly actress trained for her character in another sense. While preparing for Amin Hajee and T-Series' murder mystery – 'Koi Jaane Naa', Amyra's character had to know how to ride a two-wheeler with ease.
Apparently, when the actress started her lessons she had to call the instructor at night as the traffic in the day in Mumbai prevented her from confidently learning how to ride the two-wheeler.
When we asked the actress she said, "I have never ridden a bike or Scooty in my life. My mother was always against it and especially in a place like Mumbai where none of us obeys the traffic rules.
I tried to learn how to ride a Scooty in the afternoon once and the roads were constantly jam-packed which made me nervous and honestly didn't allow me to really learn how to ride. I got an idea because even when I learnt how to drive a car my mom would take me out at 10-11pm when there was no traffic and the roads were empty.
That's what I did with my Scooty instructor as well. She would come to my house at around 11:30 pm and she would teach me for an hour. I've become a really good driver now and I promised my girlfriends that when we go to Goa this year I'll be the one driving them around on my Scooty."