Who failed? Bipasha Basu or Alone?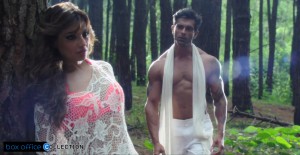 Bipasha Basu starrer
Alone
was not only thrashed by critics but the people too. The film managed to rake in Rs.
11.5 Crores
in three days. Alone, which hit the screens on January 16, garnered an amount of
3.5 Cr
 on day one, 
3.75 Cr
on second day and
4.25 Cr
on Sunday i.e. its third day.
Prior to the film's release, The Bong beauty called the film 'scary is the new sexy', She also got emotional and thanked the team of the film which also stars Karan Singh Grover. Director Bhushan Patel's earlier films 1920 Evil Returns and Ragini MMS 2 did very well at the box office. But somehow, This time the magic didn't work! The major problem the film suffered was it's screenplay which look adapted from so many horror flicks seen earlier.
"My role in the beautiful journey of Alone is ending. But many more journeys are beginning. Will miss my entire team. Thank u all for being so wonderful," tweeted Bipasha Basu on Saturday