The current generation of Bollywood actors other than acting onscreen is also aggressively following up their favorite activities including indulging in sports to keep themselves fit and healthy. Sports is a great source of fitness and a medium to improve personal and interpersonal values, playing a sport is an effective stress-buster too for these actors.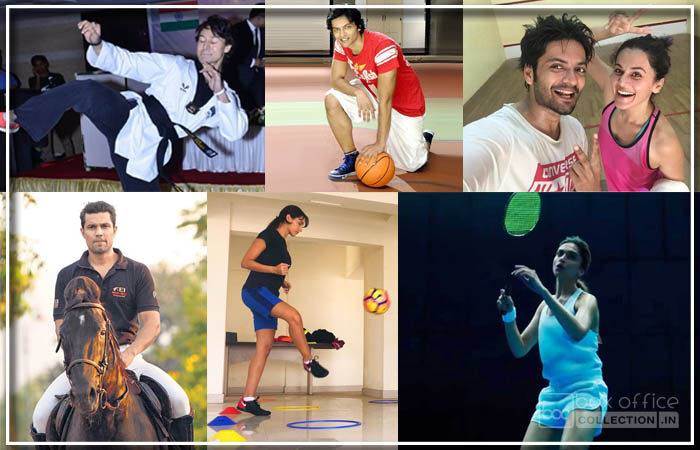 On this day of international Sports Day, we look at Bollywood actors who are known for their love of a particular sport they play.
Taapsee Pannu – Squash
Actress Taapsee Pannu has an obsession with the game of Squash. She has been playing the game since last few years and is one of her secrets to fitness. Taapsee is often seen teaming up with her co-actors to play squash on sets of her films for friendly matches.
Randeep Hooda – Horse Riding
Randeep is a professional horse rider and has won several accolades in equestrian! A keen polo player, Randeep's love stems from his love of horses and horse-riding. The actor has his own stable, and even competes for official horse-riding titles. Horse riding is one of the fitness fundas of Randeep beyond the regular gym.
Deepika Padukone – Badminton
The reigning queen of Bollywood Deepika Padukone's fitness secret lies customary gym exercises. Daughter of ace badminton player Prakash Padukone, Deepika played badminton on a National level. However, not everyone is aware that she was also a state-level baseball player. She aces the game as it's in her blood and is often seen playing badminton when not shooting.
Ali Fazal – Basketball
The Fukrey actor before making it Bollywood and Hollywood was a state level basketball player. He loved the game so much that he even wanted to have a career in it. But fate brought him on the silver screen for all the good reasons. Ali finds the basketball game stress buster and takes him back to good old school days. He is often seen and heard endorsing the game either by playing or sponsoring it.
Tiger Shroff – Taekwondo
Bollywood's premium action star Tiger Shroff has been trained in gymnastics and martial arts from childhood. Tiger has been training rigorously and has mastered several martial arts forms. Tiger has learned Kalaripayattu, modern Kung Fu, Krav Maga, and Silat. But it his incredible skills in the competitive sport of Taekwondo which sets him apart. The actor with the most envious body in Bollywood has a 5th Degree Black belt in this martial arts form.
Nora Fatehi – Football
Actor-Model-Dancer Nora Fatehi has many feathers added to her hat in keeping herself fit. Nora if not acting she is either seen doing belly dance, or pole dancing or practicing football as a form to keep her fitness adrenaline high. Nora is the only female Bollywood celebrity who has taken the football as a sport seriously and has been taking professional tips from the international football coach Govi Tyler. Football is one of her favorite game and she opted for it as it helps her to stay fit by 360 degrees and keeps her at peace.