Dilwale & Bajirao Mastani Releases on the same day, 18 December!
Seeing the hot atmosphere of B-Town right now, we can say that the hypes are going really high for both the upcoming biggies Dilwale and Bajirao Mastani. One having the master chemistry and star power of SRK and Kajol with two young but popular faces and the other with entire performing star cast that is known for its entertaining and proven acting skills; both are running quite high on expectations, pre release hypes and predictions too.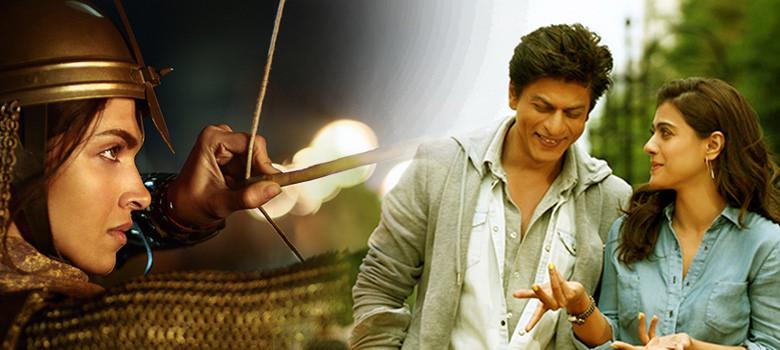 Eros International never leaves any chance for screens so we can easily expect that this time also it is going to contribute a lot in making the earnings of the films higher. People seems quite excited not only for watching the movies of their favorite star cast but also to see one of the biggest Bollywood clash of the year and see which one finally leads over the other. This 18 December audience will be really delighted with the two big factors – star power and performance.
Read: Dilwale vs Bajirao Mastani Box Office Expectations
We have seen over and over the critics reviews, social media clash and fans discussions over the two biggies – which movie will win over? We cannot judge any of the movies for an exact result as to which one is the master but we can take them on different basis. Like for Dilwale, it has all almost good factors in it be it so star powered star cast, high budget great music, nice direction and of course SRK fan's huge support.
But Bajirao Mastani on the other side has come up like a dark horse since the release of its first official trailer. Movie already has so many good factors in its favor like youth favorite and proven star cast with high performance, unique story, good music, high budget, higher screens and what not. But its first trailer raised so much craze among the audience that now people are really excited for it than before as earlier only Dilwale seemed to lead the hype race.
So it's really nerve ending that the two movies are near for their big release worldwide this 18 December 2015. The countdown has started and audience as well as the critics can feel the heat with every passing day.