Paresh Rawal's upcoming satirical film Dharam Sankat Mein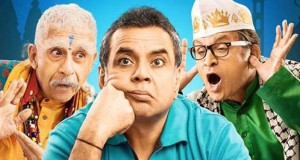 In Bollywood, there are very few actors who have talent to make audience laugh and Paresh Rawal is one of them.
Having trailed with a variety of roles successfully in his career spanning over three decades, Paresh Rawal excelled in playing hilarious roles with impeccable comic timing.
With the character of Baburao in Hera Pheri or atheist Kanjibhai in OMG – Oh! My God, Paresh Rawal has not just inspired life and soul into characters but also made them unforgettable for all movie lovers.
Continuing the comic streak, the prolific actor is all set to tickle your funny bone and scratch your conscience with some very deep questions disguised as witty one-liners in his upcoming satirical film Dharam Sankat Mein. Directed by Fuwad Khan; produced by Viacom18 Motion Pictures and Trigno Media, this satirical comedy is all set to hit the theaters on 10 April 2015.
This time, Paresh Rawal- who will be seen playing a father, a maulvi and a pandit, all in one film – pairs up with versatile Naseeruddin Shah and Annu Kapoor in the story of a man torn by the dilemma of choosing between two religions.
In Dharam Sankat Mein, Paresh plays Dharampal, a man caught in an identity crisis of epic proportions! His entire belief system is shaken when documents from his departed mother's locker reveal to him that instead of being what he believed himself to be – an average upper middle class Hindu – he was actually born to a Muslim family! Speaking about his role, Paresh Rawal said, "The film goes into a series of hilarious events that follows once I figure my true identity," quips Rawal further adding, "Dharam Sankat Mein is an important film wherein a good message is being delivered through a rib tickling story."
Talking about his illustrious film journey, Rawal added, "I'm fortunate to have got the opportunity to play interesting characters. I hope to continue entertaining the audience and my fans."