Again Postponed to 06 March 2015
Dirty Politics Movie Releasing Details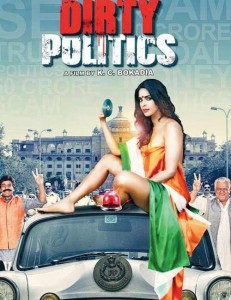 Bollywood is ready to experience another film on social topic casting some renowned actors and star casts. Upcoming Hindi movie
Dirty Politics
will be releasing soon and is based on the genre of Crime and Politics. This is a political movie along with action and drama. More easily it can be said that Dirty Politics is a story of some people with backdrop of Indian politics. Film has been directed by K.C. Bokadia and produced under the banner of B.M.B Music & Magnetics Ltd. It has a good star cast in it & would be interesting to see how this film goes on box office.
It is a much star casted film with many known names and personalities of Bollywood. There are also important characters played by the Mallika Sherawat, Jackie Shroff, Anupam Kher, Om Puri, Atul Kulkarni, Ashutosh Rana in this flick.
Releasing date of Dirty Politics has been fixed lately and was scheduled to hit the screens 13 February 2015 along with Roy & MSG. But now the released date has been posponed once again to avoid clash and now movie will get released on 06 March 2015.
Dirty Politics as already shown in the trailer is a story about the atmosphere of the political era and situations that people attached to it suffers and how the common people become victims of it. Story is quite real and seems appealing as per the current corrupted status of our economy.
Music of Dirty Politics is quite impressive and soon to be released. It is expected to gain good response from the audience and to be listed among top songs on chartbusters. Lyrics have been given by Sameer whereas the music directors are Aadesh Shrivastav and Sanjeev Darshan.
It is a medium budgeted film and will find place on average number of screens all over the country.