'Jattu Engineer' Shooting Begins!
After the grand blockbuster success of MSG series, Saint Dr. Gurmeet Ram Rahim Singh Ji Insan is all set to hit Bollywood with next flick, 'Jattu Engineer'. The shooting of 'Jattu Engineer' started on Tuesday (7th March, 2017). Jattu engineer will be produced under the banner of Hakikat Entertainment private Limited and directed by the very first Father daughter Duo in the Industry, Dr. MSG and his daughter Honeypreet insan. The shoot was initiated by lighting the lamps & cracking of coconut.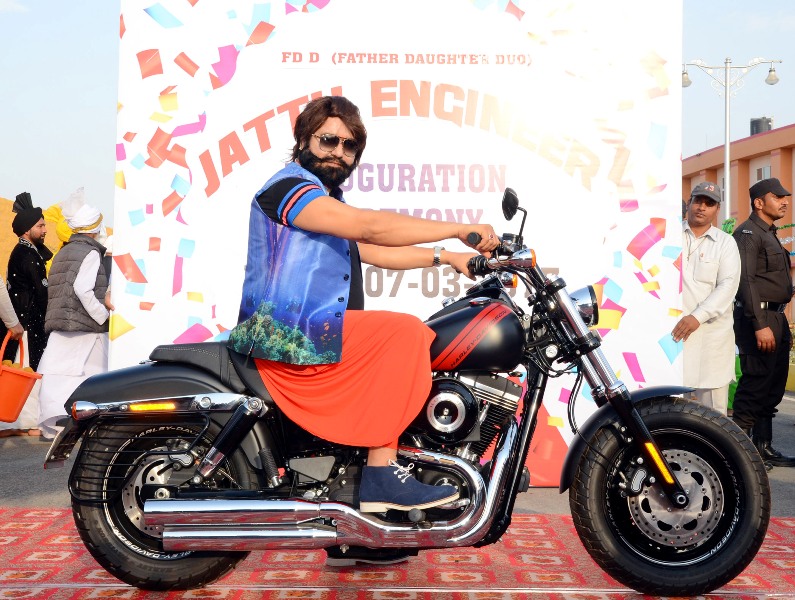 Jattu Engineer is a term used locally, where our local guy, who can fix almost everything by learning the art on his own. While addressing the media officials present, Saint Dr. MSG Insan mentioned that Jattu Engineer is a comedy movie and its story revolves around a backward village. This village has schools, but those are without teachers. People residing in this village are very lazy and addicted to drugs. Saint Dr. MSG Insan will be seen in the lead role, of a Teacher reforming the village. There will be glimpses of 'Swachh Bharat Abhiyan' initiated by our respected Prime Minister, Narender Modi.
The movie 'Jattu Engineer' is based on real life story with some, fun – entertaining sequences. Along with entertaining the audience with healthy comedy that comes naturally to this versatile Rockstar, the movie will also impart various social messages.  Dr. MSG added that there will be three songs in this movie and most of the scenes of movie will be shot in Sirsa only. The shooting will be completed in 20-30 days. The languages mainly used in movie will be Hindi, Punjabi, Marwari and dialects from UP.
Meanwhile 'Hind Ka Napak Ko Jawab', is a mega blockbuster hit, with packed houses even in its 3rd week. Saint Dr. MSG Insan is very pleased with the immense love received all over and he feels the purpose of making HKNKJ is served, with the amount of patriotism that the movie is fueling in every heart. According to him, HKNKJ has successfully, sowed the seeds of patriotism among masses, with people of all age groups, flaunting our National Flag and giving it the highest regard.
This, definitely calls for a celebration, where our youngsters are singing songs of patriotism, paying homage to our martyrs, realizing their utmost contribution for the Nation. This is the biggest reward for the Film, that he could ever ask for.  He said that the credit of success of blockbuster movie Hind Ka Napak Ko Jawab, goes to God and the society, who supported the movie. On the occasion of inauguration, groceries were also distributed to eight poor families.