Bollywood actress Madhuri Dixit is in trouble now, for endorsing Maggi as healthy food; which is actually having the high percentage of lead and a harmful acid Mono Sodium Glutamate (MSG) as claimed by Uttar Pradesh Food & Drugs Administration (UPFDA)- Lucknow.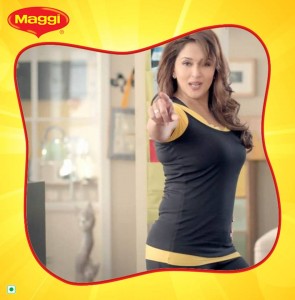 From a long time we are eating Maggi with no fear, also watching Maggi tv commercial featuring Madhuri Dixit, Amitabh Bachchan and many other famous personalities endorsing Maggi as a healthy food. But few weeks ago Lucknow situated UPFDA collected some samples of Maggi and found the presence of acid MSG (Mono Sodium Glutamate) & lead (excess amount) in it.
UPFDA already submitted the report to FSSAI and appeal to ban Nestle Maggi Noodles in India. UPFDA also sent the notice to Nestle India and asked to withdraw their popular product Maggi Noodles from Uttar Pradesh market but the company had denied all the claims.
Yesterday, Uttarakhand Food & Drugs Administration has sent a legal notice to actress Madhuri Dixit who endorses Maggi as a heathly food in its tv commercial. UKFDA asks Madhuri to respond within 15 days; why she has claimed Maggi as a healthy food? In case of no reply, a legal action will be taken against the actress.
We know that Madhuri Dixit is innocent in this case, but this is true that endorsing any wrong thing as good for the sake of money is illegal. Celebrities should thing twice before doing such advertisements; as many of their fans uses the product just because their favorite star is promoting it.