Title of Shahrukh Khan & Anushka Sharma's Next, is missing!
After showing magic of their chemistry in Rab Ne Bana Di Jodi & Jab Tak Hai Jaan, superstar Shahrukh Khan & Anushka Sharma are all set to come along for the third time with Imtiaz Ali's next. They have already wrapped up the shooting of the movie but its title has not been finalized yet. Initially it was calling as 'The Ring' but the official confirmation is still awaited on this, as the makers (Red Chillies Entertainment) have revealed the first look without any title.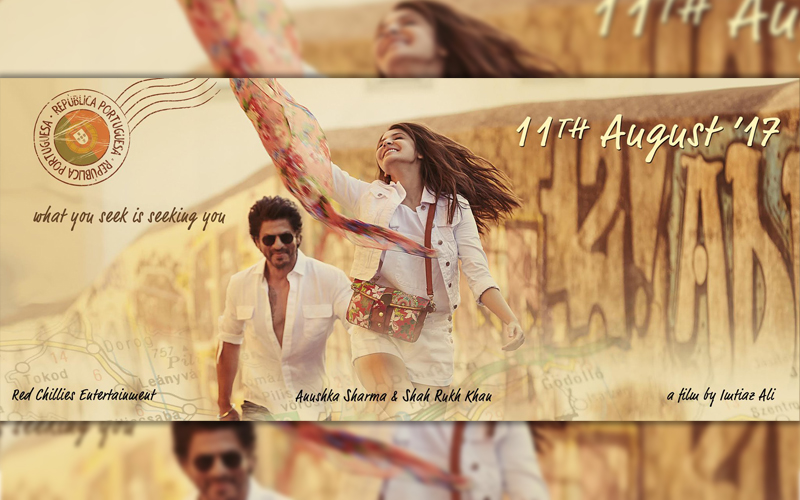 Obviously this is the part of Shahrukh's unique promotional strategy, which is going successful so far as the missing title has created higher buzz among audience than movie's first look poster. The picture with a caption 'what you seek is seeking you' features Shahrukh & Anushka as free birds, which seems like a still from any song of the movie.
Interesting part of all this is, superstar Salman Khan shared the first look of this untitled movie and also announced its release date i.e. 11 August 2016. He tweeted in his own way, ".@iamsrk ki film aa Rahi hai . Date Maine decide kar di hai . Title tum log decide kardo . Best of luck @AnushkaSharma #ImtiazAli".
Shahrukh's co-star in his recent offering Dear Zindagi, Alia Bhatt also tweeted, "August is tooo far away ya!!!!! @AnushkaSharma @iamsrk.. Am saving the date immediately.. But Imtiaz what to put in as the title???#CantWait". On this SRK immediately replied, "Thank u @beingsalmankhan & @aliaa08 for the date of Imtiaz's film. Ab bas title dhoond do! Wot u seek is seeking u…".
Giving fuel to the buzz, leading lady Anushka started a conversation, "What's this @iamsrk ?? Our release date's decided !?!" and also thanked to Salman & Alia, "Thank youuuu guys !!  @BeingSalmanKhan & @aliaa08 🙏🏼❤️!! And now back to thinking about our films title @iamsrk  💭 🤔🤔🤔think think think!!".
On her question Shahrukh replied, "Arre I had no idea we are still searching for the title. What to do now??? Go with this date or wot??".
Anushka: I knowww!! But now that @aliaa08 has said I guess we will have to na !? What say ??? @iamsrk
Shahrukh: Absolutely. Aur bhai @BeingSalmanKhan ne jab commitment kar di hai toh ab hum kaun hote Hain. 11th Aug 2017 it is!
P.S.- The caption 'what you seek is seeking you' points toward three things- love, destination & happiness. You also keep guessing!