Haider won 5 National Awards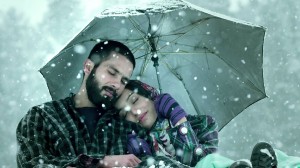 Released last year and getting huge appreciation from public, critics and audience everywhere; the serious drama
Haider
was nominated for several categorized and thus at the end won 5 national awards which is a huge achievement for film, film makers, crew and every person related to this good movie. Directed by Vishal Bhardwaj, he further states that he is very honored and happy with the performance of Haider and that public liked it so well. He wishes to dedicate all these 5 national awards to the Kashmiri Pandits; the one on whom the story of the film was based on true incidents. It is nothing to doubt that story of Haider was one main key point that connected all the viewers everywhere hence by thanking the main inspiration of the film – Kashmiri Pandits is really a good thought of the director.
Being asked by reporters about the authenticity of Haider to be totally based on the emotional and tragic story of the Kashmiri Pandits then he added up that Haider was not fully based on this theme and was only inspired. Story of the film was something else than being totally this but theme is very sad and important to portray the pain of them among the viewers of that incident. Might he make another such movie which will be totally inspired with the plight of Kashmiri Pandits and not presenting it as a mere footnote in the commercial entertainers.
Though film got many awards for best dialogues and music too but Shahid not getting best actor award resulted in bit of lack in the long list of awards for Haider. The director claimed that he is not unhappy with this fact that Vijay earned the award and he will not comment or judge anything on whom getting best actor award but it would have been icing on cake if it would have happened so.
After getting best dialogue writer for Haider, Vishal is finally satisfied happy that his work has been appreciated at the end as we had seen in past Dedh Ishiya not getting any response and resulted in failure. He also expressed that the way in which the jury and committee is deciding the awards is very impressive and impartial and must be applauded. With the favor of censor board, minister of State for Information & Broadcasting for not implying their will on the working of the film industry; the efforts have together resulted as somewhat unexpected results for all this time in awards. Anyhow for now the film maker is busy in enjoying the great achievement of the film with friends and family.