Actress has been admitted to Fortis Hospital, Jaipur while Victims are being treated in local hospitals of Rajasthan
Yesterday at around 9 pm, the actress and BJP MP (Mathura) Hema Malini met with an accident in Dausa District, Rajasthan which is around 50 kms away from Jaipur. The actress has been injured and is being treated in Fortis Hospital, Jaipur but the sad news is- one five year old girl has died in the accident.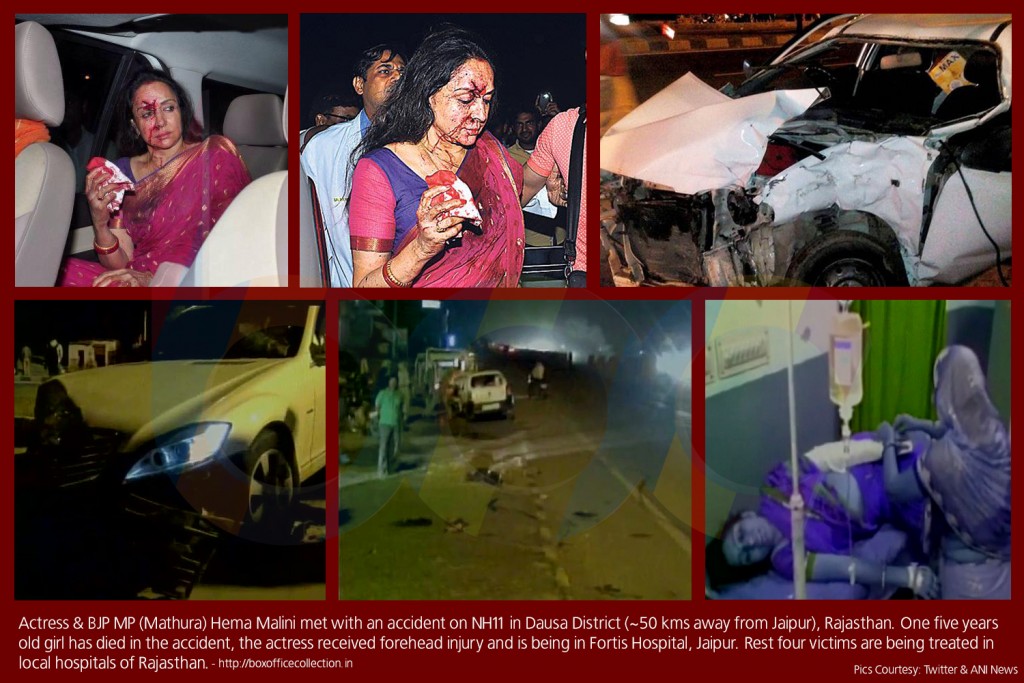 As per the report, Hema Malini was going to Jaipur from Mathura in her Mercedes Benz (HR 26 AW 5556). On NH11 Dausa the mercedes was collided with an Alto car (RJ 06 CA 4939) which is coming from Jaipur for Lalsoth. There were five members in Alto; two ladies, two children and one man. In the accident Hema Malini, two ladies, one child & a man received severe injuries and one five year old girl has lost her life.
The actress immediately rushed to Fortis Hospital in Jaipur whereas two injured persons are being treated in SMS Hospital of Jaipur and rest two are in local hospital of Dausa. The photos coming from spot are showing, that the accident was very terrible. Mercedes Benz has been damaged from front but the Alto car has completely crashed.
In photos the actress was bleeding on forehead above right eye, also having injury on upper lip. Doctors of Fortis Hospital said, the actress received stitches on forehead, CT Scan & other tests are being conducted. Whereas the victims are being treated in other hospitals and as per the report all are in serious condition.
After knowing about the accident, chief minister of Rajasthan Smt. Vasundhara Raje tweeted, "Deeply saddened by the news of Dausa accident. I pray for the victims​. We're making all efforts to provide immediate relief & medical care."
The case is getting complicated
Eye witnesses of the accident are saying, that the actress Hema Malini was driving the car under the influence of alcohol. But the photos are not showing such and still there is no confirmation about this from police department but if this is true then the actress would be in legal trouble.
On the other hand everyone is showing their anger on social media, why victims are being treated in local hospitals while the actress was admitted in Fortis?
P.S.- We hope all the injured persons will get recover soon!
May god rest her (died girl) soul in peace