After the super gorgeous Katrina Kaif, the actress turned host Neha Dhupia welcomed Kajol on her chat show #NoFilterNeha. In the second episode of the second 3, Kajol shared many never-known & funny things about herself & her life.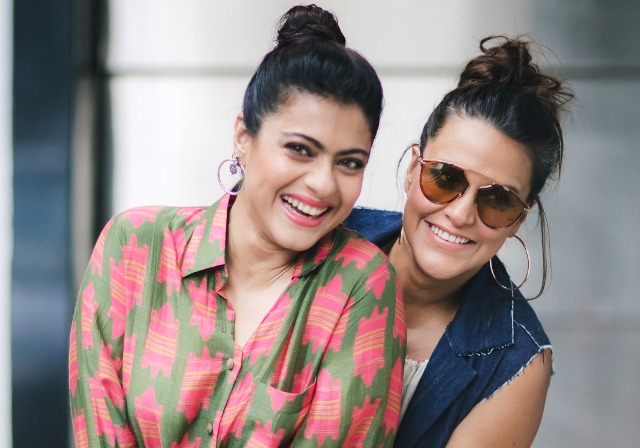 Kajol says Nysa is very critical of her!
According to her, there are very few things I look good in. her taste is very classic so anything that is a little quirky or the things that I like – is a little quirky or a little loud. She like why can't you watch this film quietly or why can't you enjoy this film quietly, why do you have to cry, scream, clap, laugh
Kajol got whacked a lot as a child!
My mum was very strict. I may not have got slapped on my face but I got whacked totally! My butt was like fully whacked and nice and red!
Kajol didn't recognize Ajay Devgan at one point!
We'd just signed a film together and he was calling me for his sister's wedding. His sister was going to get married and he was calling the whole industry. So he called me up and it was the time of landlines. He'd called me up and he'd called in the morning and I was half asleep.
I picked up the phone and he was like hi, is this Kajol? And I said NO, this is Sridevi, wrong number and I've put the phone down and he's called again, says hello and I said "I told you na this is Sridevi's number" and I put the phone down. Bechara has called my mother and told her this is Ajay Devgan here and I wanted to call Kajol for my sister's wedding but she's putting the phone down.
Kajol never shopped for herself till she was 28!
I never actually shopped till I was 28/29 years old. I would never buy clothes. I would never buy my own clothes. I always had clothes given to me or my mother would buy my clothes for me or I had people sending me clothes.
I never shopped. It was only after I got married, like 2-3 years down the line that I sat down and decided that I actually would like to buy this for myself or I would like to buy that for myself. I never shopped for myself – not shoes, not jewelry, nothing.
Kajol does her own makeup and admits to being the fastest!
I have been doing my own makeup for the last 20 years nearly. So I really know how to get my base right, I know how to get my basics right, let me put it that way. and I feel I do it the fastest also, I don't have the patience for somebody to go patting on my face for 45 minutes and then say oh now you're done.
Though I do do it most of the time just because it's most convenient to have somebody else pay attention to me rather than me sitting in the mirror at like 7 in the morning. But yes, on most days I'm very very quick and I do my makeup really really fast.
Nobody wanted Kajol and Ajay to get married!
Nobody wanted us to get married besides his family and my family. My family also was iffy because my dad when I told him I wanted to get married, he didn't speak to me for a week, it was because I wanted to get married.
He was just like why do you want to get married you're so young and your career is doing so well and I was like but I wanna get married! Ajay and I were very different people, so lots of people had reservations as to what we would be like as a couple and we were not very social even then. Not a lot of people had met us together or knew what we were like together.
Listen to 'Kajol Creates Magic' from #NoFilterNeha – Season 3 on Saavn App.