Actress Neha Dhupia is back with the third season of her popular chat show 'No Filter Neha'. Her first guest for the new season was, Bollywood's one of the biggest actresses of present time Katrina Kaif. In the show, Katrina confessed a lot about herself and also revealed what she would like to steal from Alia Bhatt.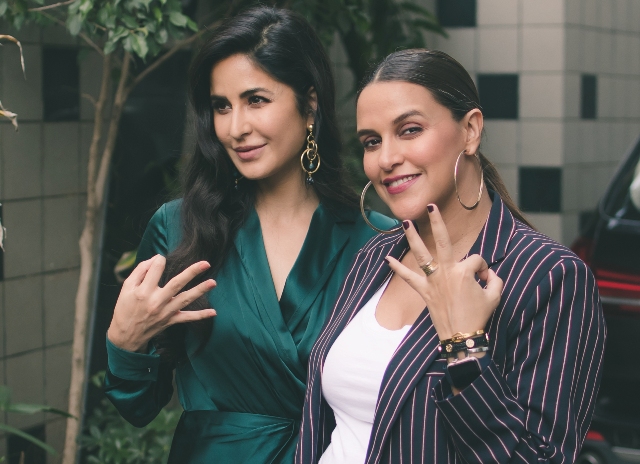 Katrina pulls her trainer out of an afternoon party just to train!! 
This is Saturday afternoon when one is coming to the gym, this is not a normal person who is drinking on a Saturday afternoon ok. Normal people who have normal regular working lives like myself, if they are drinking in the middle of the day, it is not my fault, that's all I have to say. But in my defense, all I have to say is the new improved me is learning to be more self-dependent in the gym.
Guess what Katrina has threatened her trainer with!
I plead guilty to this accusation…If anything jiggles when I dance, you've had it!
Katrina has swept the floor before just so she could exercise!
It was just me and Yas and we were trying to work out and there were a bunch of leaves on the porch but without being literal about it, I think it's only to our benefit if we all have a little less of an ego.
Katrina admits to having an affiliation with granny clothes!
My own sisters tell me that you are very drawn to what should not be in your mothers closet but in your grandmothers closet! My grandmother is 90+ years old. My sister tells me I have a granny affiliation to clothes.
You know what it is…I'm not naturally attracted to very tight, very firm fitting showy clothes. My love for these grandma floral inspired dresses is…I think deep inside I think it represents who I really am, that's not to say that deep inside I'm a grandma!
Katrina's fake love for online shopping 
I have a fake love for online shopping, I don't ever buy it! I realized that half of shopping what we do it's just a moment to appease that we've seen something we like and thinking that we've acquired it. So all the things you see online, you put it in your shopping basket.
So I see the pretty pictures, I put them in my shopping basket and then I say that I'm going to purchase this later. And if I let it go for a few hours, I've forgotten about it. I've got the enjoyment of seeing the pretty dress, I've got the enjoyment of putting it in my shopping basket and it still brings the happiness from almost acquiring it by putting the item in my basket and then I've forgotten about it.
Katrina admits to not knowing much about fashion
Not all of us are truly fashionistas, there are only a few of us who are fashionistas. I think Sonam is kind of a fashionista. I think Anushka Sharma also has got a strong sense of style. Beyond that, I don't know much about fashion.
The one person's dressing Katrina loves
I want to start having fun. If we can't have fun, if I can't have fun then I won't go. We need to start dressing for fun. In that sense I love the way Ranveer Singh dresses, it looks like he's having fun!
Katrina is in a relationship with?
I'll tell you the one relation I have with a certain type of clothes which is very emotional and that is tracksuits. Sweatpants, track pants which has nowadays come back into fashion but honestly we should get this out there to all track and sweat brands that they, as a standard procedure, should give me their whole collection in a gift packet and send it to my house because I am a genuine appreciator of sweat/track pants. That's a dil se connection with athleisure wear and soft fabric cotton kurtas!
Katrina loves to talk a little too much!
We all have scheduled to keep, right. As it is you're always trying to squeeze in your gym time before your work or after your work when you anyway don't have much time and if you start getting me talking then it's done! Then there's no workout which happens there's no nothing which happens then you end up late for your shoots and I already have to fight and be a little proactive about being on time for my shoots so it's a struggle, it doesn't come naturally all the time
Katrina did not know what Instagram was until one year back!
When I joined Instagram last year, I was on the sets of Jagga, I did not know what Instagram looked like. I was not personally on it and I had never seen an Instagram page. I did not know that pictures come and that you roll up, I did not know what it was. So someone had to show me.
Katrina likes to hit things with a bat!
You don't want to play cricket with me. I'm a selfish player. I like to bat. I cannot go trying to catch the ball, it doesn't work out okay. And I'm not good at all at bowling so it's not fun. Batting is good for me, I like hitting things with a bat.
Katrina admits to being a bully!
I'm a bully, I'm a big bully, major bully. I'm trouble when it comes to that.
The moment when Siddharth Malhotra asked Katrina to stay out of his face
I kept hitting him accidentally with my hands and whacking him in the face and all. I'm not very good at sharing the dancing space. I'm used to kind of dancing alone, I learned a good lesson in Kala Chashma that apparently I'm not good at splitting the center so naturally I was just wearing to the center of the camera I swear to you it was natural and in the process of wearing to the center of the camera, Siddharth often got a finger in his eye or a finger in his ear. He did mention it one or ten times – STAY OUT OF MY SPACE PLEASE!
Why Katrina doesn't want to find the love of her life?
I think there are some areas in life you can work on. Now those areas are your work and the other area you can work on is yourself to try and improve. The area I fee you should not necessarily work upon is finding a romantic partner or finding a partner. I feel that is something that should happen on its own, naturally and organically and it should come to you when the universe is going to bring it to you.
What would Katrina want to steal from Salman?
His charm and the love people have for him
What would Katrina want to steal from Alia?
Her awards!
Listen to 'Keeping Up with Katrina Kaif' from #NoFilterNeha – Season 3 on Saavn App.