Main Hoon (Part-Time) Killer Release Postpone
Faisal Saif's most controversial comedy spoof Main Hoon (Part-Time) Killer which was earlier titled Main Hoon Rajinikanth seems to have a sigh of relief now! Madras High Court has instructed CBFC (Censor Board of Film Certification) to delete some major scenes of the film and allow the new Censor Certificate to the makers in 10 days.
"The scenes in which there were 'Direct' references to superstar Rajinikanth or his family were asked to chop off. I didn't had any problems or issues on it because I had promised myself that I will not hurt Superstar anymore. After deleting those objectionable scenes, My film still looks the same. The idea is the same. To make people laugh and entertain." said Faisal Saif.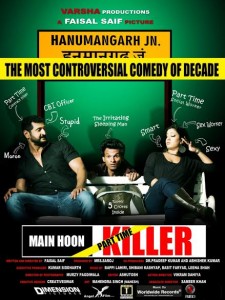 Regarding the new Censorship, Saif isn't upset but adds on "It is not that the Censor Board wants to see the film again. Madras High Court has ordered the CBFC to re-censor the film because the Censor certificate was in the name of 'Main Hoon Rajinikanth'. The CBFC has always been very supportive to me in all my earlier works. Why would I complain?"
Main Hoon (Part-Time) Killer was initially supposed to release this April 24th, but now it will move further. "We were planning to release the film on April 24th but we have now pushed it a little further. We are fully preparing ourselves for May-Mid release." added Saif.
The film stars notable South-Indian villain Adithya Menon playing Rajinikanth along with Kavita Radheshyam, Smita Gondkar, Sunil Pal, Ganesh Yadav, Reema Lagoo and Shakti Kapoor.