It's always a fun time filled with banter on 104.8 Ishq when audiences tune into 'Battle of the Sexes with Sarthak' every morning. Upping the ante on the digital front, viewers got to see yet another absolute entertainer, starring their favourite celebs. This time around, it was a fight between fire and ice as Mallika Sherawat went up against Tusshar Kapoor. A lot of hidden scoops was unveiled in the show, thanks to Sarthak firing questions at them.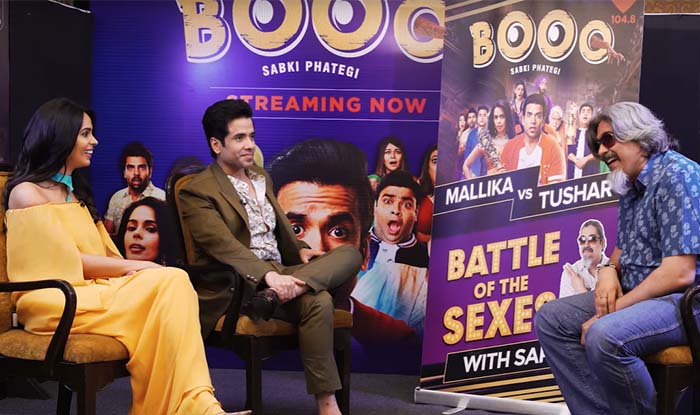 As opposite as Mallika and Tusshar are, their contrasting character traits were pretty evident over the course of the episode. Despite that, the camaraderie between the pair was enjoyable as they went head-to-head on Sarthak's iconic show that brings out the nuances of a relationship between two people. The duo, who recently made their digital debut in ALTBalaji's horror-comedy series 'Boo…Sabki Phategi' were quizzed by Sarthak on questions from the world of fashion, movies, lifestyle, automobiles and pop culture.
Mallika left no stone unturned in letting everyone get a sneak peek into her lavish and luxurious life answering each of the questions thrown at her with utmost flamboyance. Tusshar left Sarthak and Mallika astonished when he showcased his knowledge of horror movies saying that 'Veerana' and 'Taikhan' were few of his favourite childhood movies.
The battle between the lavish, outgoing and extrovert Mallika versus the shy, homely Tusshar was surely the highlight and the biggest takeaway of the episode that gave audiences the best of both worlds. This was seen once again as Mallika went on to reveal her deep connection with the French language as well as boasting of her swanky Mercedes Coupe in LA in a true display of indulging in the most luxurious of things money can buy. Tusshar, on the other hand, spoke about his experiences of just having become a father.
This was yet another entertaining episode of the 'Battle of the Sexes with Sarthak' that featured Tusshar and Mallika. The show has also seen Shahid Kapoor take on Kiara Advani as well as Ayushman Khurrana go up against Sanya Malhotra, amongst others.