Kangana Ranaut starrer Manikarnika's teaser has been recently released and it has become the talk of the town. The magnum opus Manikarnika: The Queen Of Jhansi, is a biopic on Rani Lakshmibai. It has already received 11 million views in 24 hours since its launch. The actress, who's currently finishing the shoot for the period drama, is also readying it for a January 25 release next year, as per plans.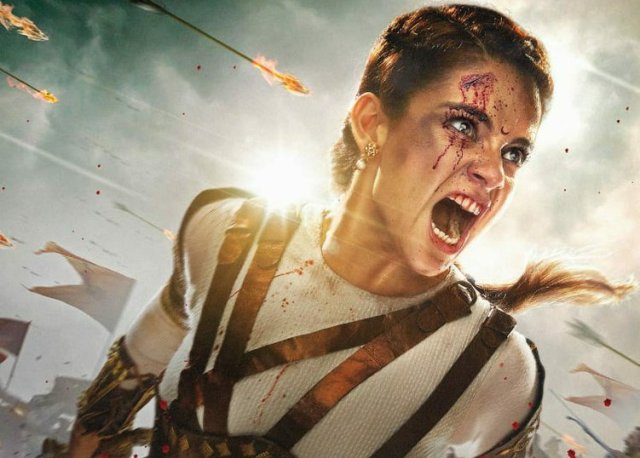 She is directing the patchwork and a few scenes that need to be reshot (after Sonu Sood opted out and Mohammed Zeeshan Ayyub stepped in), in the absence of the film's main helmer Krish. The talented star shares how she has managed to shoot the biopic, despite various challenges.
Featuring Kangana as the fierce Rani Lakshmi Bai, the film's teaser is high on action and less on dialoguebaazi. The actress reiterates that it was a conscious call on her and the team's part. She reasons, "It was important to establish the genre and the film's scale as this biopic can be made as a human story since her tale is extraordinary or as a biopic in Hollywood style like Richard Attenborough's Gandhi.
We decided to make it as an action film and have communicated that through our teaser. It's not the promo as we have not yet released any dialogues, scenes or storyline,".
Once the re-shoot was announced, there were several speculations about the period drama moving from its Republic Day release. But Kangana is working round the clock to ensure the film keeps its date with the audience. She tells us, "We were racing against time. It was my decision to release the teaser on October 2.
Everyone raised their eyebrows and were like, 'Isn't it too early?' But I was sure we would make it on time. Then the post-production work on the teaser including the VFX was happening and simultaneously we were shooting in Karjat." She asserts, "I didn't want it to be unfinished. Amit Chandra from Trigger Happy, who has cut the teaser, has done a terrific job."
Kangana is known for not conforming to industry norms and has emerged as one of the strongest female personalities in Indian cinema today. She points out the blatant sexism that still exists within the patriarchal set-up of the film fraternity, even when it comes to making movies of this stature.
"They (the industry folks) can make so many frivolous movies with budgets of  ₹100 crore. But when it comes to making great stories and especially women-centric biopics, the trend hasn't caught up yet. We really have to give it to my studio (Zee Studios) who has been a norm breaker. It's in line with the kind of unconventional choices that I make. Kudos to them for funding this kind of a film,".
Manikarnika is produced by Zee Studious and Kamal Jain and releases on the eve of Republic Day, 25 Jan. The movie is directed by National Award Winner Radha Krishna Jagarlamudi and also stars Ankita Lokhande, Jisshu Sengupta, Zeeshan Ayyub, Danny Dengzongpa, Atul Kulkarni and Taher Shabbir in pivotal roles.