Recently the banner Lyca Productions has announced the new release date of India's biggest movie ever, made with a budget of 450 crores, 2.0 (2 Point 0) as 27 April 2018. Being highly awaited and the most anticipated movie of the year, it is all set to create history at box office like Baahubali 2 that was released on 28 April 2017.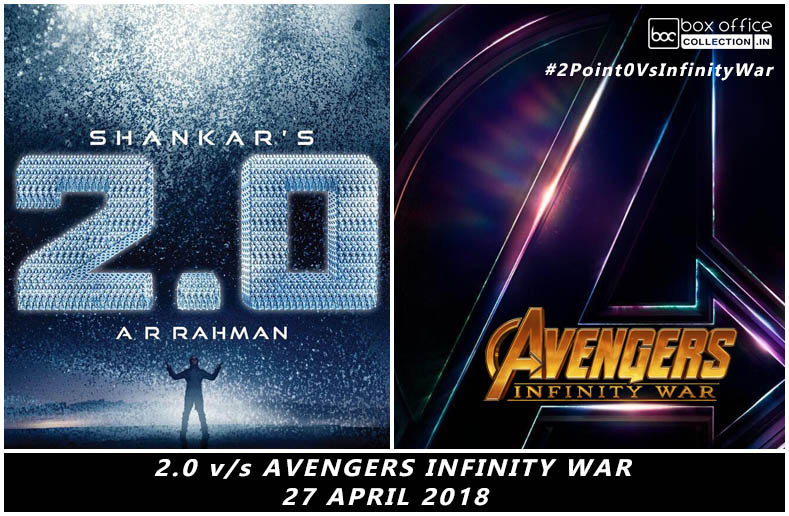 But as per the announcement made by Walt Disney Studios Motion Pictures, superstar Rajinikanth & Akshay Kumar starrer 2.0 won't hit screens alone, because the studio has decided to release Marvel's most awaited movie Avengers Infinity War across the country on the same day i.e. 27 April 2018, one week ahead than it's USA schedule (4 May 2018).
Directed by Shankar, 2.0 is the first Indian movie that has been shot in 3D and will release in Hindi, Tamil and Telugu (dubbed) languages. After several postponements, eventually this sci-fi action thriller has got the final release date which it will have to share with the sequel to 2015's Avengers: Age of Ultron.
This is for the first time, when two highly ambitious projects from Bollywood and Hollywood respectively, are all set to clash with each other at Indian box office. Definitely the American franchise Avengers has huge popularity among Indian audience but still it doesn't look a wise decision to challenge the movie with two big superstars.
Superhero action movie Avengers Infinity War has made strong impact on viewers with it's first official trailer that was released on November 30, while the trailer of 2.0 is scheduled to be out on December 12, birthday of superstar Rajinikanth.