In the closing episode of No Filter Neha Season 3, the actress-turned-host Neha Dhupia had a conversation with the star filmmaker Karan Johar. On the show, KJo opens up for the first time ever about his passion for making his upcoming film Takht.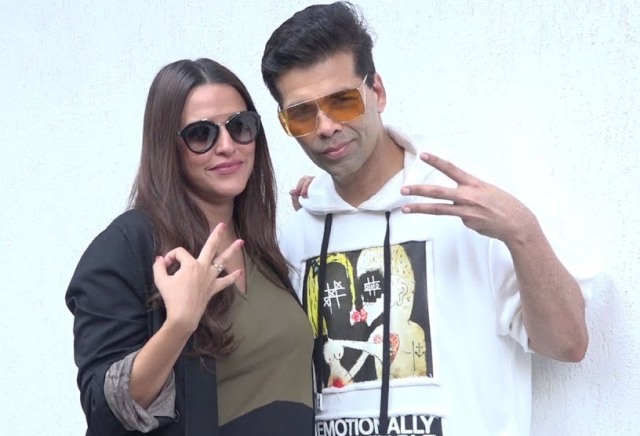 Karan Johar's first world problems with none another than Diljit Dosanjh!
So I have a big problem Neha, I am really troubled by Diljit Dosanjh. I mean, like you know the thing is that, I think we're both are like crazy shoppers and I think we wear invariably landing up wearing the same clothes because we have the same brands that we love, and plus they are also from the new collection and we are bit of like, I'm also an online shopper, so I go through this process of buying these things and wearing them on occasion.
But Diljit buys and wears, immediately & puts up an image. So we had this Faux fur jacket, you must specify that because I don't wear faux fur jacket it's from a brand called as GCDS (God Can't Destroy Streetwear) and I was saving it for my big photo opportunity time when I was travelling to Europe and suddenly the night before I take that flight, I see the image uploaded by Diljit Dosanjh and he uploaded and I was like I called Nikita, my stylist and I'm like I'm shattered, I'm broken and I'm totally like Channa Mereya out right now because I'm like I wanted to wear this jacket and that was my FWP. And, I was so upset, it broke my heart.
Karan Johar doesn't know Beyonce's music
I might get trolled for saying this but if you are comparing just Beyoncé and Badshah, I'll much rather watch Badshah. Like I much rather hear Arijit Singh, I've absolutely no interest in hearing Beyoncé, I don't know anything about her music but the fact is that she kills it with her stage look, like I absolutely love her stage look and all the actresses try to emulate that but they don't have those legs and they don't that body and they certainly don't have that personality to exude on stage that she does but I know nothing about her music.
Karan Johar considers John Abraham as a legend, read to know why
I want to tell you just now, John Legend performed in Como and I was like, I told John Abraham, who was standing next to me that you're the only John that's a legend in my life. I don't know anything about like John Legend. Like I don't know anything like I'm so clued out of international music, which is not something I'm proud of because being a wannabe millennial, I should be and I try very hard to cope up. And I can cope up in what fashion choices are but musically I'm just completely out of touch with what's happening.
Karan Johar for the first time ever opens up about his passion on making his upcoming film "Takht"
So, I've to say that Takht is hugely the most passionate piece of material that I think I will ever direct. I'm hugely passionate about it. I'm obsessed about the Mughal era ever since I can remember that's the one part of history that I was obsessed about it in terms of its visual texture, by its content, the controversial content, the political betrayal, the love, the lust, the decadence, the debauchery, the madness, the violence everything that era is exotic and its gorgeous and its absolutely beautiful.
It's something that I've always chased and wanted to like kind of put up there and finally when Sumit Roy, the writer came to me with the story of Dara and Aurangzeb which is pretty much the first time I'm saying that what Takht is about. I think it is that part of history and I'm like it's just something that I'm so passionate about. I can't wait to get into the prep mode which I've already started off, I can't wait to put this film on the floors and I can't wait for the world to see it.
I'm so excited with the cast, I'm so excited about Ranveer, Vicky, Bhumi and Kareena and Jahnvi, Alia and Anil Kapoor who I'm working with for the first time, so I've told everybody in office that when I start that film just leave me alone. Like everything else I'll work up to that point but when I'm on the floors with Takht, that I just want to do that and nothing else. 6-8 months will be the filming period. When I start filming September August next year after that for 6 months after that I'm lost to the world and lost to the world of Takht.
Guess what Karan Johar replied on being asked – who would dethrone Sonam Kapoor as Bollywood's biggest female fashionista?
Me. I already am getting there, Watch me, baby, I'm going to hit the red carpet with more steam than Sonam Kapoor. Watch out Sonam, you don't know what's coming your way, a fashion hurricane is going to hit you.
Karan dedicates a song to Ranbir Kapoor and Alia Bhatt
Ae Dil Hai Mushkil – Title Track
Karan Johar revealed on No Filter Neha, whom Salman is going to marry in 2019!
3 more blockbusters. I'm not sure to a woman
Listen to 'No Filter Coffee with Karan Johar' from #NoFilterNeha – Season 3 on Jio Saavn App.