The new guest on the chat show of actress-turned-host Neha Dhupia, No Filter Neha- Season 3 was Radhika Apte. The actress reveals many things about herself in the recent episode.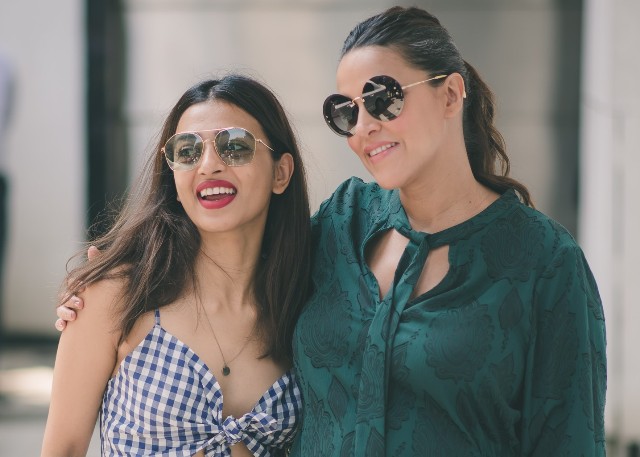 Radhika Apte's worst date!
When I went to England, I went on one date. I mean the guy is wonderful, we're very good friends, he wasn't bad, it was me because it was a rebound. We went on this date and we got really hammered. Oh my God, I was so drunk! At one point, I kept my head on the table because I was so drunk and he left, he went to the loo. And I thought he went and I got up and I left
Bombay made Radhika Apte depressed at one point!
I came to Bombay initially, alone. Then I went back to Pune because I got too depressed because I was here for 7-8 months, I was staying with people that I didn't get along with and I was doing theatre which was in town so it was that commute every day, which is fine, that was the only good time, the theatre time that I had, but I had no good friends.
I wanted to do films and I didn't know a single soul, I didn't know any casting director, I didn't know anybody! I didn't know where to start from. So, I'd wake up and feel what do I do? Whom should I call? Where do I go? So, I realized I need to be around people who make me a bit happy and don't make me feel so useless.
Radhika Apte's weird audition experience
I don't remember the name of the director because it was just an audition for a film that never happened. Oh my God, it was so dramatic. I came back from London and these guys said that they wanted to do a film, Vikram the south Indian actor is going to be in it, it's going to be massive and it's a period drama. So, they called me down south and said we'll give you a hotel, you come here for one day, the director wants to audition you.
I'm not even exaggerating okay, I'm not even joking, this is exactly what happened…this director was some asshole, I can't even remember his name, they got me a room which was a bizarre room! It was such a cheap hotel, I could not believe. And I've not gone to South India or any industry where they've treated me like that. So I go to them and said I need to go back tonight, I can't stay here.
Then the director came and said 'just want to see you in different poses'. I said I don't know what that means so he just showed me some dance poses, thankfully. And with him, a bunch of people came into the room, all men, with cameras. And they were like they're going to click pictures and I couldn't quite understand where this was going, what was happening.
That got over and he said we have to get your measurements with masterji and again some 12 people came in and took my pictures in that little blouse and the period costume that they'd given me. They're clicking pictures of me and I don't even know where those pictures are! It wasn't that anybody touched me or said anything sexual, it's just that what was happening was not okay.
Radhika Apte's bizarre non-payment story!
I have payments pending for years…years! I won't tell you names in Bombay but the two films I did with Balakrishna, who's great, he was actually trying to help me. But the second film that I did with him, they offered me a lot of money because I was doing his second film.
It was not my cup of tea, I was doing it because it was really good money. I had a lot of money which they said they'll give me on the last day. So, it was a song shoot and I said I want my money right now or I'm not going to do this song. And they said here's the cashier, he has the money and the receipts so just finish this off and we'll immediately give you.
Then I finished my shoot and I had to leave for the airport and I said so please can you give me my money? And they were like oh, the cashier went to the office. So, they said, if the cashier comes here, it's going to be too late for you to go to the airport so why don't you go to the airport and let the cashier meet you at the airport, outside the airport you sign the things, take the money and you go.
So, I said this so not okay but I had to go, I had work the next day. And I remember incessantly calling them and either they were not answering or their phones were switched off! I tried to follow up with them for so long but I never got paid!
Radhika is a no-nonsense person!
I'm pretty no-nonsense and it comes across quite obviously and this one was like a really big, big star. I had heard a lot of things about him. But on the set, I witnessed him spanking women left right and center! I freaked out and gave it back to him on the first day and he was extremely respectful from that day on. Older women, younger women, assistants of choreographers, he would just hold them by the waist when they're crossing him and they're just trying to escape.
Radhika hates social media?
I don't hate social media at all, I just don't love it. It has a place in my life, my daily life more than my "life" and I'm appreciative of that space, it's given me a lot. It has given me my bread and butter in many ways. It's just that I think getting involved in social media too much is not good for my mental health. It's not good for anybody's mental health.
Akshay Kumar's prank on Radhika Apte
He used to play a prank on me almost every day. So basically, on April Fool's day I was like wait, now I'm going to play a prank on you and he's like haha we'll see. And then with Sir Balki, he did this to me because he knows my weakness that if a director is panicking or there's a time limit or you need a shot desperately, I'm like a machine. I'll do anything. I'm not chilled out on set.
So, he (Sir Balki) was like the sun is going Radhika, the sun is going, we really need to get this shot. He said just climb on the wall and I want you to run from this corner to that corner. And I was like WHAT? He's like yeah yeah it's a montage, just go. I climbed up and he's like okay now run! And I was like there's no camera Sir Balki.
I said where is the camera? he said it's there, it's behind the tree and I said there's no camera behind the tree. And he's like Radhika we're losing light, please run! And I had to run. So I ran like an idiot on this wall and Akshay couldn't stop laughing and everyone was filming!
Radhika on being killed in Sacred Games
I'm really good with rejections and I'm not very attached, I wish I was like this in my personal life. I'm not attached when the work is over. I knew that I was going to die from the beginning. So, it's like so detached in my head that even if it's so successful I go like greaaat!
Saif or Akshay – better co-star according to Radhika?
Definitely, Akshay comes on time more than Saif but Akshay is on time in comparison to anyone I've worked with!
Who needs a new stylist according to Radhika Apte?
I think Ranveer Singh. It's because he can carry anything so he should get a new stylist every day and get some more inspiring looks every day.
Listen to 'Radhika Apte is Omnipresent' from #NoFilterNeha – Season 3 on Saavn App.