Just a few days ago, the makers of one of the most anticipated biopics of 2019 released the logo of the film with a controversial tagline, 'Not a P0rn Star' clearly emphasizing the perspective of the film. 'Shakeela' is based on the life of the Southern actress of the same name, whose popularity soared after the untimely and tragic demise of Silk Smitha.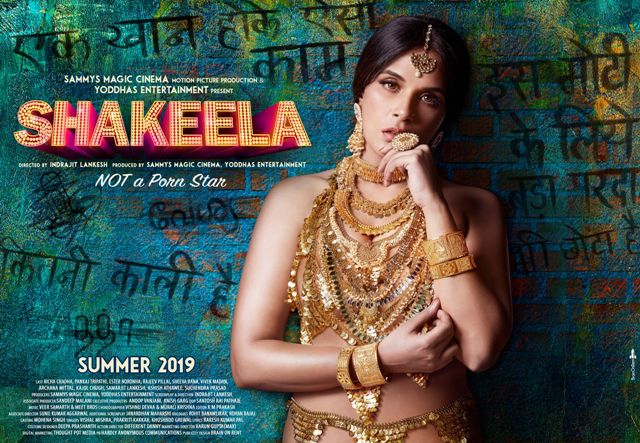 Even though she was known primarily for her roles in adult films, her phenomenal success made her several enemies and said to have caused ripples in the male-dominated industry of the time. She was an unlikely superstar whose films were translated into foreign languages like Chinese and Russian in her prime. Her box office was often responsible for helping cinema halls survive in B and C towns in the South.
The first look poster of the film which has the impeccable actress, Richa Chadha playing the titular lead has been released. Covered in authentic gold jewelry, which is a staple element of glamour in Kerala, Richa looks convincing as Shakeela Khan.
Interestingly the actress stands defiantly in the face of the insults that are scribbled on the wall behind her. The slurs refer to her skin color, body and religious faith along with some obscene illustrations that have been scratched out.
Looks like the director Indrajit Lankesh is cautious and doesn't want to be accused of 'whitewashing' the truth as had happened in the case of a recent blockbuster. Despite it all, Shakeela meets your eye, looking into the lens with confidence.
The film which has been produced by Magic Cinemas and Yoddhas Entertainment is now all set to release in Summer 2019.