[Total:

3

Average:

3.7

/5]
As a result of versatile acting skills, actor Sushant Singh Rajput has number of films in hands despite giving few hits in his career so far. The actor who has been listed among big stars of Bollywood after the success of M.S.Dhoni- The Untold Story, has started prepping for his role in upcoming film Chanda Mama Door Ke.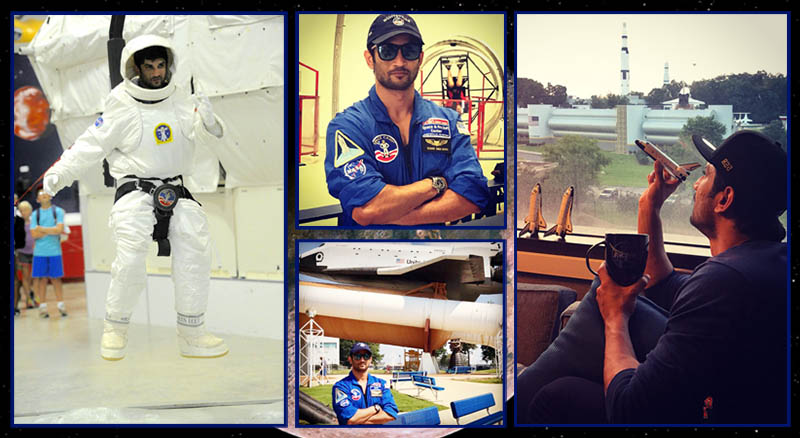 Directed by Sanjay Puran Singh Chauhan, Chanda Mama Door Ke is an India's first science fiction space film. Inspired by the 1968's Hollywood hit 2001: The Space Odyssey, it stars Sushant Singh Rajput & Nawazuddin Siddiqui as astronauts alongside R. Madhavan as a test pilot.
To get under the skin of his role, Sushant has just started his training at NASA's Space & Rocket Centre in Alabama, USA. This is for the first time when any actor of Indian film industry is under special training at NASA, to step into the shoes of an astronaut for a film.
USSRC welcomed Sushant with open heart and released an official statement. "We would like to welcome Youth Icon and promising Indian Actor, Sushant Singh Rajput for undergoing this training schedule, including the important training regimes such as, 'Flying a Space Shuttle Simulator' or 'Lunar Module/Mars Lander Simulation', 'Experiencing Zero G', '1/6', 'Wearing a professional Space Suit', 'Flying a multi-axis trainer' and 'Docking the shuttle to the ISS'".
Sushant is also seems very excited and honored to undergo such special training at NASA. To express his excitement, he took to twitter and shared a picture with caption, "Living your dream is the walk between what should be done and what could be done using 'maybe's as your signposts. #selfmusing #NASA".
Produced by Viki Rajani under the banner Gen Next Films in association with Eros International, Chanda Mama Door Ke is scheduled to be released on 26 January 2018. The producer told, director Sanjay took 7-8 years to complete the script of the film with all technical detailing.