Superstar Ajay Devgn has created the midnight sensation by sharing the first look poster of his next Taanaji. Directed by Om Raut, this epic action drama is based on the real life of unsung warrior of Indian history Subedar Taanaji Malusare.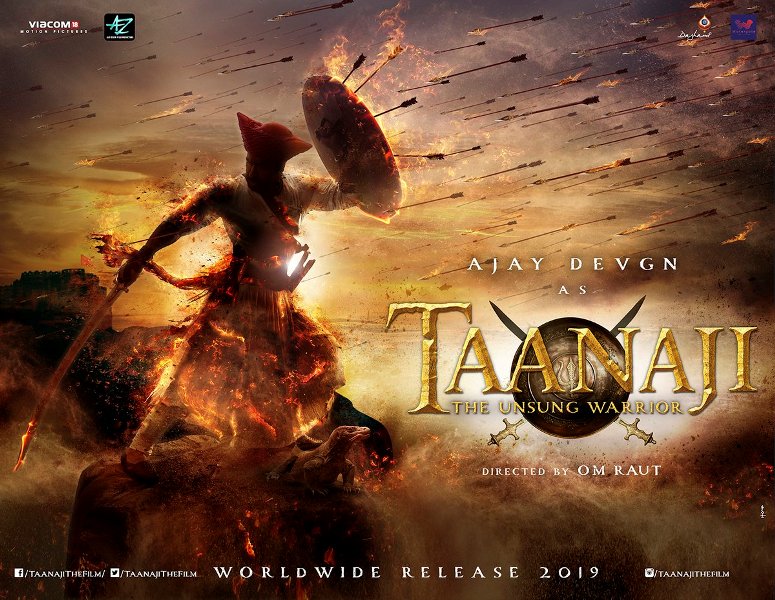 In the film, Ajay Devgn to play the leading character of  Subedar Taanaji Malusare who courageously fought for his soil, people and king Chhatrapati Shivaji. At noon on July 19, Ajay gave a hint by tweeting "Can't wait to share with you'll something very exciting that we have been working on lately! Out at midnight!".
Then in midnight at 12:15 AM on July 20, the actor took to twitter to share the first look poster of Taanaji. He captioned the picture, "He fought for his People, his Soil & his King Chhatrapati Shivaji. The unsung warrior of glorious Indian history, Subedar Taanaji Malusare".
The picture features Ajay Devgn as a Maratha warrior Taanaji in a battle field, defending himself from the arrows coming toward him. Undoubtedly the poster looks very epic and has created a huge buzz about the film on social media.
By announcing the film surprisingly, Ajay Devgn has stolen the sleep of his fans. Their excitement can be visible easily on social media, within the two minutes of release hashtag #Taanaji started trending in top 5 on twitter across the country.
Produced by Ajay himself under the banner Ajay Devgn FFilms in association with Viacom 18 Movies, WaterGate Production and Dashami Studioz, Taanaji is set to release worldwide in year 2019.