Actress turned host Neha Dhupia is back with the fourth season of her successful celebrity chat show 'No Filter Neha'. In the recent episode of the show, the new guest Taapsee Pannu has revealed many things about her life.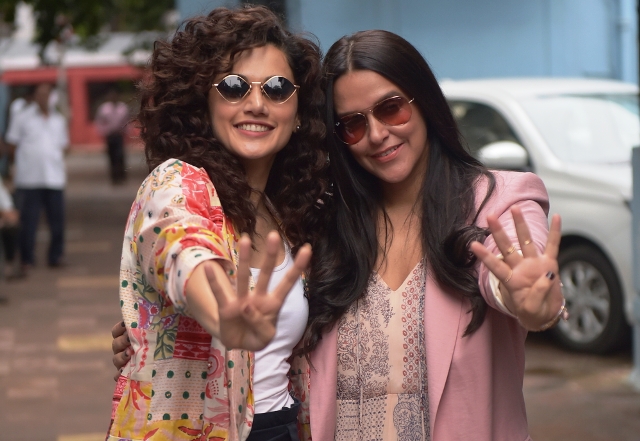 Taapsee reaction to Rangoli Chandel
She always has a lot of things to say. I just think that she loves me, I think both of them really love me and that's because they give me so much of time and attention from their lives. I honestly, unfortunately, don't feel the same so I don't give it back, I don't give my time and attention to them because it doesn't matter to me in my life or in my scheme of things.
I don't want to waste my time on someone who doesn't matter to me but apparently, I do matter, is why I get so much of love and attention and time but I honestly find it so futile to instigate me like that. If you really want to instigate me and make me say things, this is not the way.
Taapsee on Rangoli's reaction to Saand Ki Aankh
See, first of all, when I took up this film, I honestly thought that I would be appreciated for doing such a film or taking this step because generally, all actresses conventionally don't like to become mothers or grandmothers, or don't like to look so de-glammed in a film. I thought that it's going to be in my favour but clearly not because of some people.
But with her, whatever I do that makes an impact will attract a certain kind of attention from her is what I have realised lately. Which is okay, it means that I am making an impact. I didn't bother replying until I saw actresses like Neena ma'am talking about the same thing and I really respect and love her because I have worked with her in Mulk as well, I know her.
So that's when I decided to answer back by giving examples of the fact that how many times before has it happened that younger actors have become older like Saransh for that matter, Mahaan for that matter. We have such brilliant actors ageing double, triple their age and that's been okay and we have anti-ageing also happening at the same time, someone like Aamir in 3 Idiots so we've been all fine with that and enjoying and celebrating that as actors so why target me?
The secret of how Taapsee gets instigated
Either become someone really close to me to affect me that way and then expect an answer of that sort otherwise I will really not bother because you don't really matter to me. You can keep saying whatever you want, it won't affect me.
Taapsee's badminton team's lucky charm is her being in the toilet!
Because that seems to be the lucky charm for the team! The moment I went inside the toilet, the team started scoring points. I'm ready to sit in the loo for the longest ever time if they are going to win all the matches like that, trust me on that.
Why doesn't Taapsee talk about her current boyfriend – Mathias Boe?
Too much will be written and said about it which will overtake my professional life.
Taapsee chooses the perfect combination for her perfect man
Sex appeal: Hrithik Roshan
Sense of Humour: Akshay Kumar
Intelligence: Shahrukh Khan
Charm: Ranveer Singh
Net worth: Salman Khan
Taapsee's ideal wedding destination?
Beach, somewhere on the beach
Taapsee when she was house hunting
All these details are given to you when you're trying to find a house, apartment in Bombay to stay. So if you have to go and find a house in Juhu somewhere, they say 'ki Hrithik Roshan ka ghar baaju mein hai, woh balcony mein yahan pe dikhte hai kabhi kabhi and then the current apartment or the society I live in has Ayushmann.
So the moment I entered, they're like Ayushmann stays here. I was like that's not gonna be my reason to buy the apartment. In fact I was thinking of buying an apartment which is gonna be away from all movie folks so that I feel like I'm at home and not at work. But they just kept selling me stuff basis 'baju mein yeh rehte hai, iss building mein yeh rehte hai, iske upar wale ghar mein yeh rehte hai'.
I'm like that's how they sell the apartment in Bombay which is quite weird for someone coming from Delhi. That apartment I stay in I keep making fun of the fact that 'agar mein top floor se neeche tak aau na puri picture set ho sakti hai, it has producer, director, music director, singers, writers, everyone in that building.
Taapsee on her neighbours
Woh aise ghar ke andar wale aate hai. They ring the bell at an odd hour also. At 11 pm or something, they just ring the bell and they expect me to entertain them at that hour. So yeah that happens and they don't get it, they don't understand.
Taapsee's fake drama at home when she first cut her hair short
I never thought I could pull off a real-life drama before that. You know this procedure of handling long curly hair is intense. So the whole thing used to take my entire Sunday. Every week and I started hating my hair. So much so that, I was so paranoid with this taking care regime that I ended up going and getting it cut and I came back howling into the house and everybody is surprised, what has happened to her suddenly.
I ran inside my room, dived into my bed crying that I had to cut my hair because there was a chewing gum that was stuck in my hair and I had to get it cut, there was no other way out! And the drama I created, they just felt bad for me.
The one thing Taapsee hates: Rampwalk!
I hate it. I don't hate it but I detest it because I know I will trip, I will fall, some big calamity will happen when I'm walking on the ramp.
The most embarrassing moment of Taapsee's life
That was by far the most embarrassing moment of my life. And trust me, the hotel must be having the footage of that and if that gets released, I don't know where I'll hide. So there was a big water body kind of a thing, not a running fountain but a water body in the middle of that hotel in Hyderabad and there was a shortcut to the toilet and there was a long cut or around that water body.
So I was like who will walk all the way around, I will take the shortcut. The shortcut required me to put one step on to the corner of that water body and jump on to the other side. I stepped on it thinking that ya I'm sporty enough to just quickly jump.
And I slipped and I landed inside that water body! Facing the ceiling, I was lying down there in my pyjamas in that water body drenched from head to toe, dripping! The funniest thing is not just that I am lying there in the middle of fountain thing but there's a table right next to me, there are two people sitting there at the table, they are just so flabbergasted looking at me they don't even blink, they don't even get up to help me! They're just shocked seeing me there inside!
Taapsee on pay difference in the industry
Of course, it does! When I'm paid only 5% to 10% of my heroes, of course, it bothers me. The success at the box office will make sure the next film I get paid a lot which is slowly moving towards equalizing that difference.
Taapsee says Badla will be called an Amitabh Bachchan film
Even when I do films like Badla, I had more working days or scenes so to say than Mr Bachchan. He was the hero of the film, I was the antagonist. But the antagonist has more presence in the film than the protagonist. But eventually the film releases, they call it an Amitabh Bachchan film.
Yes, when I raise my voice and say I've done almost equal if not more, that's when people recognised and started taking my name because it's such a male-dominated industry, they don't even realise that I might have done more work actually. It was called Sir's film, it won't be called a female film regardless of the fact that I have more scenes, it will be called an Amitabh Bachchan film and the credit will go there.
That's why my pay will not increase as much as it will increase after Saand Ki Aankh. It hurts me to see this disparity but I'm not going to be unreasonable and ask for an equal amount of money right away, I would rather wait and do things to equalize the box office and then expect them to pay me and honestly, they will. They are happily paying me because I am sensibly raising it, not just wanting to equalise it right away but balancing it with my box office success.
Ms or Mr – Admit who are together already according to Taapsee?
I think they just did, Arjun & Malaika
Ms or Mr – Delete your social media according to Taapsee?
I think your husband should do that (Angad Bedi). I think he should immediately do that. His posts are really like, it's more like a models profile. He's less of an actor, more of a model profile that he puts up. Only purely Diljit Dosanjh songs on his insta stories is what I can see
Ms or Mr – Worst co-star according to Taapsee?
I'll say two of them – Jacqueline because she is so freaking hot and hot body, which I was struggling to match up to it in Judwaa 2 and I was like I just hope I don't put myself to shame. And the other one which I had a difficult time, which I told also is Vicky because I was always so conscious that I should not lose out to him in the scene because he is just so good
Ms or Mr – If they didn't have famous parents, they'd be nowhere according to Taapsee?
I think Harsh, because whatever I have seen of him till now, I think it would have been pretty difficult to get a second film after a not so appreciated debut
Mr or Ms – Get a new stylist according to Taapsee?
Urvashi Rautela. She has got a great body. I would love to see better clothes and not just the kind that shows only the body
According to Taapsee, Ms or Mr – 2020 will be the year of?
It will be mine
A game of Re-casting
Sonakshi Sinha in Mission Mangal: I think I would have loved to have Radhika Apte
Kirti Kulhari in Pink: Richa Chaddha
Tapsee in Judwaa 2: That could have been anyone. Maybe, Disha
Abhishek Bachchan in Mannmarziyan: Dulquer
Vicky Kaushal in Mannmarziyan: Ranveer
Tapsee in Mannmarziyan: Nobody could have done it better
Diljit Dosanjh in Soorma: I think Bedi (Angad) could have done that also
Bhumi Pednekar in Saand Ki Aankh: Anushka Sharma would have done a good job
Akshay Kumar in Baby: Irrfan Khan
Diljit Dosanjh or Angad Bedi – Better Co-star?
Bedi
Shoojit Sircar or Anurag Kashyap – Better director?
Shoojit Sircar hasn't directed me, yet. So, Anurag Kashyap
Kirti Kulhari or Angad Bedi – Better Co-star?
Bedi
Akshay Kumar or Vidya Balan – Better Actor?
Vidya
Vidya Balan or Sonakshi Sinha – Better Actor?
Vidya
Vicky Kaushal or Abhishek Bachchan?
Vicky, he's a better friend also and he's a better actor
Kangana Ranaut or Rangoli Ranaut – According to you?
I think Rangoli. I really love their love for me