Tanu Weds Manu Returns Poster Released on Kangana's Birthday
After the super hit movie Queen in the recent past and then some not so favorable movies like Revolver Rani, Ungli etc, now the Kangana Ranaut is coming back again with the sequel of her successful hit Tanu Weds Manu (2011). Directed by Anand L. Raim movie is in the buzz of media as the film makers decided to release it on very special occasion i.e. on the birthday of the leading female face. Yes, yesterday was Kangana's birthday and thus the poster was unveiled yesterday on 23 March 2015 among the presence of the sequel's cast in Delhi at a venue that was decorated in a way as grand as a wedding. Yesterday she has turned 28 and it was very important event for both Kangana and the crew of film.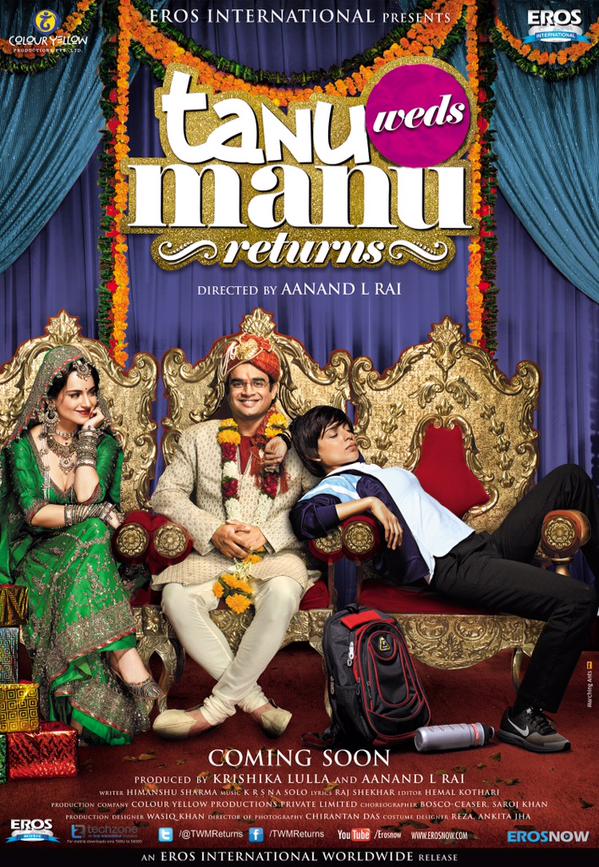 R. Madhavan is playing the male lead in this installment too and that the story starts from where it was left in prequel. After the poster has been unveiled, people are very excited to watch the trailers and movie. Poster depicts Kangana Ranaut in somewhat same but somewhat different look than the prequel and she can be said more charming in this newer poster.
With so many fans following after the success of many films in her past like Gangster – A Love Story, Woh Lamhe and Once Upon A Time In Mumbai, Fashion & Queen, it is very obvious that all her fans are too excited to know anything about this movie so and to relieve them of suspense flick as per reports might be hitting screens in season of May.
The film maker has definitely gifted Kangana Ranaut a very warm and special present by unveiling the film's first poster on her birthday and that too on such a grand level and wedding venue sort of atmosphere.
By now as per the audience positive attitude towards the poster, we can already assume that trailer will set trend on the social sites. Everyone is waiting for R. Madhavan and Kangana's charm to play magic once again with this upcoming romantic drama movie.