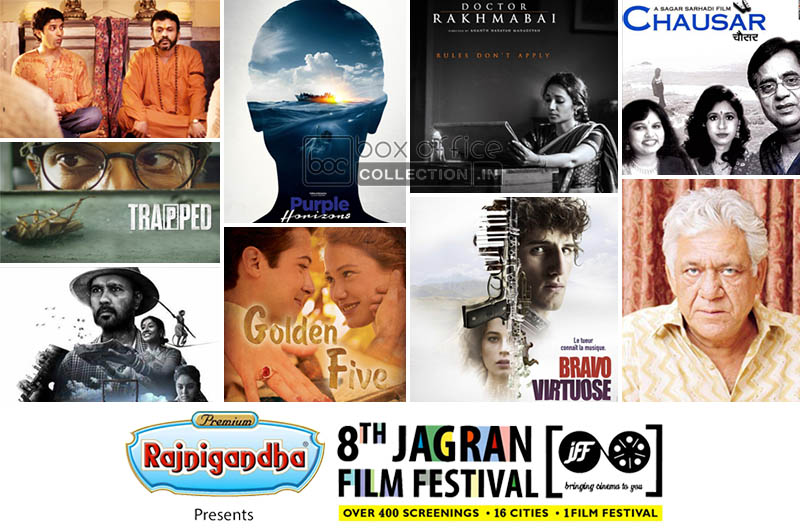 Jagran Film Festival 2017 – 8th Edition, India's big travelling film festival is preparing to transcend boundaries of India pegging reach of around million cinema fans, to build awareness and create cultural affinity in its 8th year of organisation.
While all the films are best in their respective genres, the festival has shortlisted top 10 highly recommended films to look forward-
The Fakir Of Venice: The 8th edition of Jagran Film Festival opens with the world premiere of an Indian film starring Farhan Akhtar and Annu Kapoor, 'The Fakir of Venice'. It is the story of a strange relationship between two characters who are brought together to carry out a deception. To pull it off, however, they must learn to shed the layers of deceit, and move towards understanding themselves, and each other.
Tope (The Bait): A film by one of India's top film makers, Buddhadeb Dasgupta is yet another treat to be looked forward to. 'Tope' (The Bait) is based on a macabre short story by Narayan Bandyopadhyay, which Dasgupta first earmarked for adaptation over a decade ago, but which initially proved too blunt and spare for his maximalist magic-realist style.
Horses Of God: After a stint in prison, a young man Abdelilah Rachid becomes a violent Islamic fundamentalist and recruits his younger brother Abdelhakim Rachi and the youth's best friend Hamza Souidek to his cause. Nabil Ayoush mesmerizes the audience in this film with his versatile portrayal of the mindset of suicide bombers. A winner at the Cannes and Rotterdam Film Festivals, 'Horses of God' is a must watch at the festival.
Purple Horizons: Meryem 25, lost her family members because of sinking the migrant boat in the Aegean Sea near Bodrum Kos Island while trying to escape the war of Aleppo Syria. The film follows Meryem's life torn between her new husband and her old dead family. A film with a contemporary subject has been to at least a dozen top international film festivals.
Bravo Virtuoso: Winner at several film festivals, Bravo Virtuoso is a weird tale of Alik, a young virtuoso clarinetist of a classical orchestra is forced to accept contracts intended for a hired killer, called the 'Virtuoso' to save his orchestra. Alik however is a musician and not a murderer.
Golden Five: Another top rated film at the festival is 'Golden Five' from Macedonia. Maki, Kata and Jiji are loyal friends who believe in their youthful ideals. However, when Maki and Kata announce their engagement, Jiji becomes jealous.
Doctor Rakhmabai: Director Anant Mahadevan has not only been prolific but also highly creative in delineating biographical. His latest 'Doctor Rakkhmabai' is based on the story of Rakhmabai, an Indian woman who became one of the first practicing woman doctors in colonial India. Tanishtha Chatterjee plays the lead role in the film.
Mr. Kabbadi: Another film not to be missed at the festival, is the last film of actor Om Puri. Directed by his wife Seema Kapoor, the film is a satire and would be screened as the closing film of the Festival.
Chausar: Sagar Sarhadi directed 'Chausar' has it's world premiere at the festival. The first feature film of actor Nawzuddin Siddiqui is produced by Shyam Swami. Part of the special section 'Cinema out of the box', the film is awaiting its release. The festival presents this yet unseen work of the maestro Sarhadi.
Trapped: Vikramaditya Motwane and actor Rajkumar Rao come together to create an unusual blend of storytelling in a one character film. A man gets stuck in an empty high rise without food, water or electricity is the smallest possible one liner of the film. The way the director-actor duo keep the audience glued to the screen is a treat to the eye.
The festival will begin on 1st July 2017 in Delhi's posh socio-cultural hub and center, the Siri Fort Auditorium. Over 400 screenings will be showcased that includes a stellar line-up of films from across the world. Some of the prominent sections of the festival are World Panorama, Indian Showcase, Jagran Shorts, Jagran Discovery, Country Focus and the Retrospective of films.
The 2017 edition of Jagran Film Festival will traverse from Delhi to the Indian hinterlands of Kanpur, Lucknow, Allahabad, Varanasi, Patna, Dehradun, Ranchi, Jamshedpur, Bhopal, Indore, Hisar, Ludhiana, Meerut, Raipur, and culminate in Mumbai.