The world of celluloid is an appeal unlike any other. Many are taken in by the glitz and glamour of films and being an industry insider. Although TV is too high on demand among the audiences in India, the magic of films is a whole other ball game. We have seen a lot of transfers from TV to films over the years, but not all of them have been able to work their TV charm on the 70 mm screen.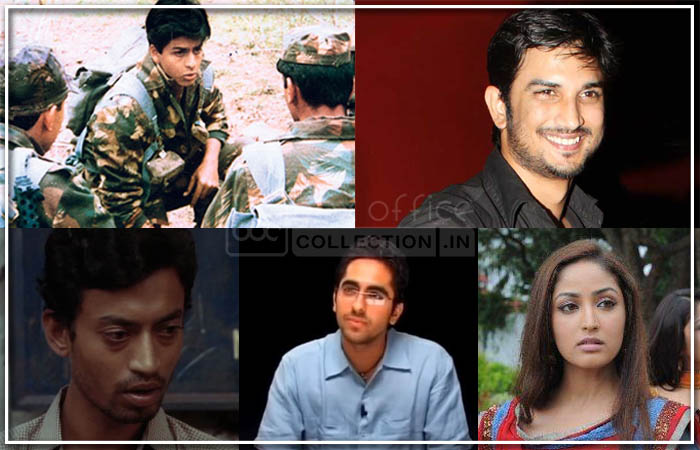 However, there were a chosen few who not only made the switch from TV to films but also became huge crowd favourites. Here's looking at five such actors who made it big after making the switch.
Shahrukh Khan – SRK is probably the most prominent success story on the big switch, having done notable TV series' prior to making it big in Bollywood. King Khan, who was first seen in the DD National serial Fauji as a soldier became an instant success through his most memorable television role in Ashutosh Gowariker's Circus. Although his first few films didn't make it big at the box office, Shahrukh became the Badshah of Bollywood, loved by one and all, not only in India but all over the world.
Irrfan Khan – Irrfan, one of Bollywood's most cherished actors who has not only made it big in his country but also in Hollywood, first appeared on screen with a TV serial called Shrikant and then went on to star in the famous show, Chandrakanta. Although many don't remember the Piku actor's TV stint, Irrfan was a known actor in the circuit who got the audience to sit up and take notice after starring in a series of critically acclaimed films like Maqbool, Pan Singh Tomar, The Lunch Box and Hindi Medium.
Yami Gautam – Before making waves in the industry with films like Vicky Donor, Badlapur, and Sarkar 3, Yami Gautam appeared in 2 television series on popular networks in India. Her first show, Chaand Ke Paar Chalo, aired from 2008-2009 with the Kaabil actress having a pivotal role in the series, following which she did Yeh Pyaar Na Hoga Kam, which aired from 2009-2010 and starred Yami in the lead with prominent TV actor Gaurav Khanna. This marked Yami's last stint in TV as she soon made the switch to films with Vicky Donor, opposite Ayushmann Khurranna and never looked back.
Ayushmann Khurrana – Ayushmann first got noticed by audiences when he auditioned for MTV Roadies Season 2, which he went on to win, following which he appeared in several reality shows as an anchor or host. Prominently a VJ posts his stint on Roadies, Ayushmann made the switch to films as the lead in Vicky Donor and has been on the rise ever since.
Sushant Singh Rajput – Sushant was a successful TV actor, playing the lead in popular soap Pavitra Rishta, which won him several awards. The Raabta actor soon made his debut with Abhishek Kapoor's Kai Po Che! which won him serious acclaim, loved by both the audience and critics alike. Having found his calling card, Sushant went on to star in several commercially successful films, even starring as the titular character in a biopic on Mahendra Singh Dhoni.