Crime Thriller 'Udta Punjab' Now Releases As Per Schedule: 17 June 2016!
Finally after so much chaos and controversies, Hindi movie Udta Punjab has received 'A' certificate from Censor Board. CBFC has issued clearance to the movie with 13 cuts under 'A' category. The decision was announced by the Chairman of Censor Board Mr. Pahlaj Nihalani, yesterday in Bhopal.
He said, "Nine members of the CBFC (Central Board of Film Certification) had seen Udta Punjab. After that, they 'unanimously' cleared it with the proposed 13 cuts,". "Now the CBFC's job was over, it was upto Udta Punjab's producer to go to the court or tribunal." he added.  Bombay High Court has given its decision…read more below.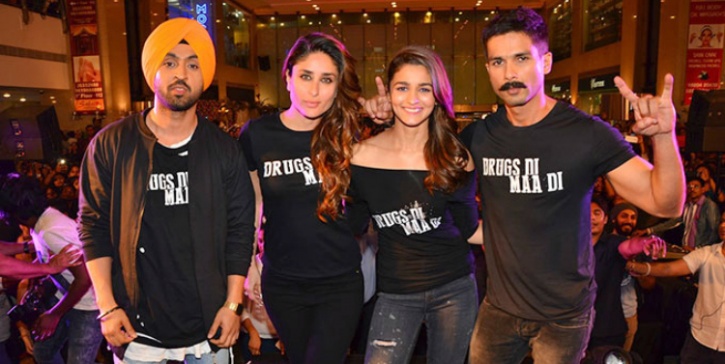 The Bombay High Court has given its decision on Udta Punjab censorship. It has passed the movie with only one cut & revised disclaimer, whereas the censor board was proposed 13 cuts yesterday. Anurag Kashyap's lawyer told to media, that court ordered them to delete only one 'urination' scene for the movie.
The court's order was very crucial and now the movie is being released on coming Friday i.e. 17 June 2016 as per its schedule. Udta Punjab has budget of around 40 crores including production cost plus prints & advertisements. If it didn't get clearance from the court, then this will cause a huge financial loss to the production houses Balaji Motion Pictures & Phantom Films.
Anyways the controversy has ended now and the decision is in the favor of Udta Punjab. Of course these were unfavorable days for the movie, but all this has created huge buzz about it among audience. After this it is expected to get impressive response on box office.
What was the matter?
Abhishek Chaubey's directorial Udta Punjab stars Shahid Kapoor, Kareena Kapoor Khan, Alia Bhatt & Diljit Dosanjh. It is bankrolled by Ekta Kapoor's Balaji Motion Pictures & Anurag Kashyap's Phantom Films. The movie deals with the drug addiction problem in the youth of Punjab state.
At the time of certification, CBFC asked filmmakers to remove all the references to Punjab, its cities and politicians along with expletive language and vulgar scenes, so that it can be tagged as fiction. Mumbai based newspaper Midday reported that there were 13 cuts suggested by the board. But as per Anurag Kashyap, these were 94 cuts under 13 different headings.
The case had raised a revolution in the industry, almost all filmmakers and producers have been united against the dictatorship of CBFC. They said, the board is only a certification body and should not act as a censor board. After this Anurag Kashyap moved to Bombay High Court seeking for the justice.
The court heard the case for two days last week and passed the movie with only one cut on 13th June. The bench said, "From every dialogue and scene of the film, if reference to Punjab will have to be deleted then the crux of the film will be lost. If the idea of the maker is to be critical of a place or person then that place or person will have to be shown,". "We do not find anything in the film that shows Punjab in bad light or affects the sovereignty or integrity of India as claimed by CBFC. Creative freedom should not be unnecessarily curbed; nobody can dictate to a filmmaker about the content of his film."