In the recent episode of the chat show No Filter Neha Season 3, the actress-turned-host Neha Dhupia had a conversation with supremely talented actor Vicky Kaushal, who reveals many sensational secrets about himself.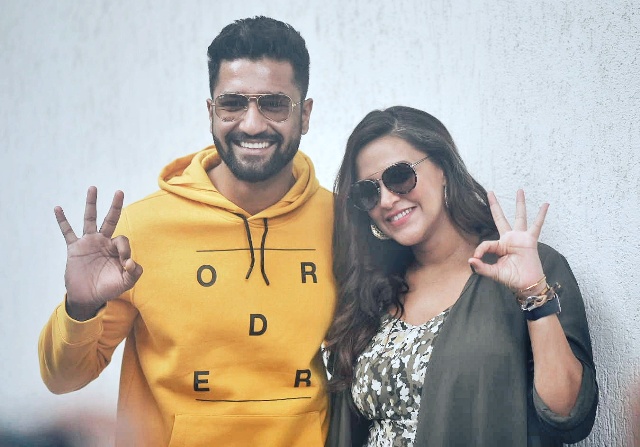 Guess which song Vicky dedicated to Harleen Sethi?
Do you know? Main tenu kinna pyaar karda, Do you know? Main tere utte kinna marda. Do you know?
Vicky Kaushal is self-obsessed
I'm a bit self-obsessed also. So kai baar randomly bhi lag jaata hai. But jab tak aap bahar nikalte ho naha dhoke, kapde badalke bahar nikalte ho duniya mein and you see nobody giving an F and then you're like chal theek hai, khud ko bolne mein kya hai
Vicky Kaushal does not know how to swim!
Not just that I didn't know how to swim, I was a terribly hydrophobic person. I joined swimming classes when I was a kid but I couldn't even fathom to go to the deep end ever. So 10:30 at night Neeraj called me and was like you're on board.
The next day I called them and said script bhej do and Neeraj was like haan script toh tere ghar pohonch rahi hai but tell me, do you know how to swim? And I was like aisa na ho jay eke who bole tu swimming bhool ja, hum doosri casting kar lete hai. I'm like ya I can reach from point A to point B but I was like fattaoed. And he's like ya because you have to dive into the Ganga. I was like what? And I said Neeraj I'm not sure about my swimming.
So, he's like forget the script, first enrol yourself for a swimming class. So, I enrolled myself and am practising with 10 and 11-year-olds who are half my size! And I'm flipping my feet in the water saying ke sir dekh lo form sahi hai and they're like sir 19 seconds mein lap ho gaya, can I go faster than this!
Vicky Kaushal admits to being the biggest fattu!
I can't watch horror films! Biggest fattu! I have watched Conjuring with a group of friends and I was so fattaoed after that. My friends have gone off to sleep, I had to watch Andaz Apna Apna right after it to erase all the memories of conjuring. I watch Anda Apna Apna and that's when I felt normal and that's when I could go to sleep.
Vicky Kaushal admits to getting screwed early on in life
I've got screwed in life quite early on. I was a kid, I was in school. I was in Punjab for my summer vacations. It was my mom, me and my younger brother. And there, the electricity used to go very often. It was an evening and I still remember, it was a Saturday.
I was actually playing with a screw, it was just there. It was a nail. I was playing with it, trying to lick it and taste the metal. All of this is happening in the dark. I was just playing with myself, nail, screw, yeh who time pass. And when the batti came achanak se, pata nahi mujhe kya hua, I just gulped the screw down! And everyone's happy batti aa gayi and I'm like MOM and she's like haan.
And I'm like, maine screw kha liya. And she gave me one jhapad saying screw koi khane wali cheez hot hai. And Punjabi moms getting panicked is a sight. Screw kha liye mere munde ne, screw kha liye mere munde ne, screw kha liye mere munde ne, my nani has flipped. And I'm just sitting there ke mujhe toh kuch feel nahi ho raha, I'm feeling normal.
And woh utha rahe hai doctors ko, munde ne saade screw kha liya! We went to the doctor the next day and they said abhi toh kuch hoga nahi, Sunday hai toh do an x-ray. X-ray karvaya and the screw was towards the left bottom corner of my stomach.
And the doctors in Punjab, they gave us 2 options: the first was, dekhoji ya toh surgery kara lo, dooja tattiyan karva lo. And meri family ne jo tattiyan karva lo, they took it so seriously. They put me on a diet of bananas and milk, I used to go do tattiyan like 3-4 times a day!
The three bad things about Anurag Kashyap according to Vicky
Firstly, I would say that he is too impulsive, which sometimes gets him in the wrong spot. He just ends up hurting himself. Secondly, I would say that because of that impulsive reaction, he sometimes forms judgments about people and situations which are not necessarily true. Third, as a friend, I would say yaar thodi drinking kam kar do.
Karan Johar's instructions for Vicky for Lust Stories
Vicky's quote – In our scenes, he was only laughing. It was very simple. I arrived on set, there was a simple brief- are, Vicky aagaye? Chadh jao!
Guess why Sham Kaushal was first proud of Vicky?
I was 16 or 18, I was in college. So, we have this place in Madh Island where we'd go for weekends and to spend holidays. We were coming back from the place and somewhere in Malad, there was a car and pata nahi kya hua, we just brushed the car or something.
And those guys just started hurling abuses and my dad was driving. And my dad was like let's just stop our cars after the signal and let's talk. Otherwise let's just go to the police station and sort it out, don't worry. And we as kids are getting fattaoed ke dad ka gussa na badh jaye.
So, we park our cars and I go with dad. My dad steps out of the car and I also joined him. And they were like 2 men, proper 40-year-olds and all. So, they come out of the car and they were a bit intoxicated. So, I was like dad ko control karta hu and achanak se they just gave some gaali to my dad.
And when that happened I don't know what got into me, I just ghumaaoed one and slapped the 40-year-old. I was just 16. And that's the first time I abused in front of my father. I just lost it, gaali de raha hu, maar peet raha hu usse. Dad kheench ke mujhe leke aaye, he got into the car, I'm sitting behind and I'm fuming! And my mom's like kya hua? Sab theek hai na? he just looks at my mom and says – puttar sada vada ho gaya hai! I'm feeling so proud.
Vicky and Sunny get offered the same role?
It actually happened with Gold. I was called for that part. Eventually what happened was that I was stuck with Sanju. But then they started auditioning and Sunny auditioned for the part and Sunny got the role. So, we were like as long as Kaushal parivaar mein role aa raha hai, sab sahi hai.
Listen to 'Lusting Over Vicky Kaushal' from #NoFilterNeha – Season 3 on Saavn App.