Kamal Haasan Shares the First Look Poster of Vishwaroopam 2
After a long time, filmmaker & actor Kamal Haasan is back with the second installment of his most ambitious and critically acclaimed franchise Vishwaroopam, titled as Vishwaroopam 2 in Tamil, Vishwaroop 2 in Hindi and Vishwaroopam Tamizh in Telugu. This bilingual spy thriller has been shot in Tamil & Hindi simultaneously and scheduled to be released this year in three languages including Telugu (dubbed).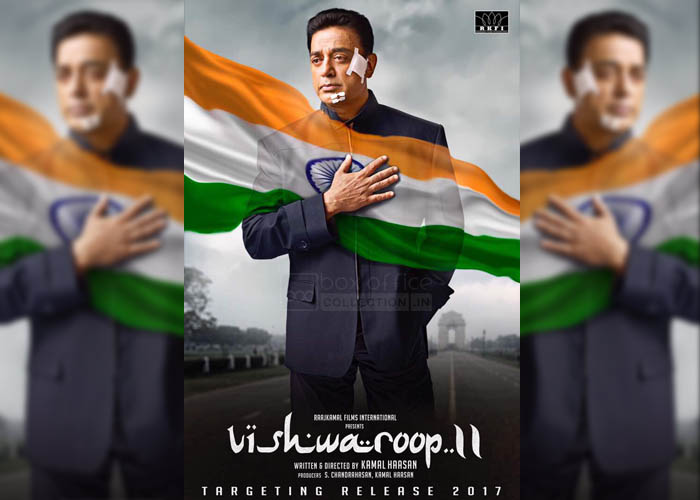 On  Tuesday i.e. 2nd of May, the actor took to twitter to unveil the first look poster of his upcoming much awaited movie. Earlier he wrote, "Happy to announce: Today 7pm Vishwaroop 2 Hindi first look poster & Vishwaroopam Tamizh Telugu 1st look posters release Exclusively for you,". Later he shared the picture with a caption, "With love my country and it's people,".
The picture shows wounded Kamal in love with his country India. The actor-director announced the sequel in 2014 but due to certain reasons it got delayed for long. Now after 3 years, again Vishwaroopam 2 has started buzzing among fans as well as audience. Movie's story is about the mother-son relationship, which stars Kamal as son, Waheeda Rehman as mother, Pooja Kumar, Andrea Jeremiah, Rahul Bose and Shekhar Kapur in pivotal roles.
Movie's previous part was released in 2013 and faced serious criticism by an offended religious group. Vishwaroopam 1 was initially got banned in Tamil Nadu and had been released on limited screens in many states. The ban was lift after Kamal Haasan decided to mute certain scenes. But the first installment had received positive response from viewers as well as critics.
This is why, everyone is looking so much excited for the second installment. Produced by Vishwanathan, Ravichandran, Ekta Kapoor & Shobha Kapoor, Vishwaroopam 2 is slated to be released in the fourth quarter of this year under the banners Aascar Films Pvt. Ltd., Balaji Motion Pictures and Raajkamal Films International.