The Indian movie which creates history at worldwide box office, Baahubali aims towards breaking the lifetime collection record of the second highest grosser movie of Indian Cinema; Aamir Khan starrer Dhoom 3. The movie has already collected 420+ crores at worldwide box office in the journey of 17 days and now heading towards the target of 435.35 crores that was set by Dhoom 3 in the year 2013. As per the expectations, Baahubali will accomplish it till the end of third week.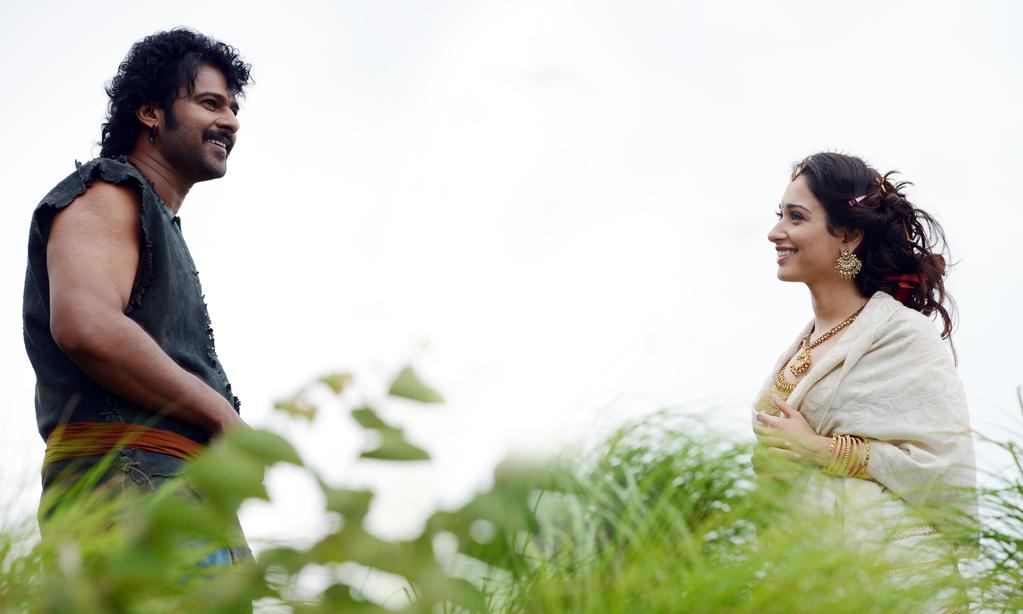 After two weeks the total collection of Baahubali was around 73.15 crores with its Hindi version and approx. 391 crores at worldwide box office. Now movie is running in its third week and has completed its third weekend. In its third weekend it has done the business of total 9.83 crores* with its Hindi version that includes 2.68 crores* of Friday, 3.20 crores* of Saturday & 3.95 crores* on Sunday and made its 17 days total to 82.98 crores*.
On Hindi screens, the movie is facing loss of audience due to Salman Khan starrer Bajrangi Bhaijaan but doing good with rest of its versions. Because of its earth shattering performance, Baahubali getting international coverage. It is being compared with Hollywood's big movies like Troy, Hercules, 300 & etc. This is really very positive thing for Indian Cinema, that it is also having caliber to compete with Hollywood. Viewers just got stunned after watching the super quality VFX of Baahubali. For its direction, S.S. Rajamouli receiving appreciation from many directors of Indian Cinema.
Making a great movie like Baahubali, has become a dream of all directors now. S.S.Rajamouli has listed himself in the list of best directors in India. Now he can make any movie super hit by his name only. The craze of Baahubali is not ended yet, everyone is now waiting for its second part Baahubali-The Conclusion that is scheduled to be released next year in mid.
*- these are precise figures
| Box Office | Collection (Hindi) |
| --- | --- |
| Day 1 | ₹5.15 Cr |
| Day 2 | ₹7.09 Cr |
| Day 3 | ₹10.11 Cr |
| Day 4 | ₹6.10 Cr |
| Day 5 | ₹6.15 Cr |
| Day 6 | ₹6.05 Cr |
| Day 7 | ₹6.12 Cr |
| Day 8 | ₹3.25 Cr |
| Day 9 | ₹4.70 Cr |
| Day 10 | ₹5.40 Cr |
| Day 11 | ₹3.82 Cr |
| Day 12 | ₹3.20 Cr |
| Day 13 | ₹3.05 Cr |
| Day 14 | ₹2.96 Cr |
| Day 15 | ₹3.10 Cr |
| Day 16 | ₹4.35 Cr |
| Day 17 | ₹5.11 Cr |
| Day 18 | ₹3.05 Cr |
| Day 19 | ₹2.60 Cr |
| Day 20 | ₹2.25 Cr |
| Day 21 | ₹2.15 Cr |
| Day 22 | ₹1.60 Cr |
| Day 23 | ₹2.70 Cr |
| Day 24 | ₹3.40 Cr |
| Day 25 | ₹1.20 Cr |
| Day 26 | ₹1.10 Cr |
| Day 27 | ₹1 Cr |
| Day 28 | ₹1.10 Cr |
| Day 29 | ₹0.84 Cr |
| Day 30 | ₹1.23 Cr |
| Day 31 | ₹1.63 Cr |
| Day 32 | ₹0.59 Cr |
| Day 33 | ₹0.60 Cr |
| Day 34 | ₹0.59 Cr |
| Day 35 | ₹0.61 Cr |
| Day 36 - Lifetime | ₹4.75 Cr |
| Total | ₹118.70 Cr |