The second '300 crores grosser' Bollywood movie Bajrangi Bhaijaan has completed its 3 weeks journey at box office. This Salman Khan starrer has made everyone stunned with its phenomenal performance in India as well as in overseas. It has received overwhelmed response across the globe because of its peaceful concept and ofcourse the presence of all favorite Salman Khan. After a very successful movie Ek Tha Tiger, director Kabir Khan & Salman were again teamed up for Bajrangi Bhaijaan and the results are in front of us. It has become the second highest grosser Bollywood of all time on Indian as well as on worldwide box office.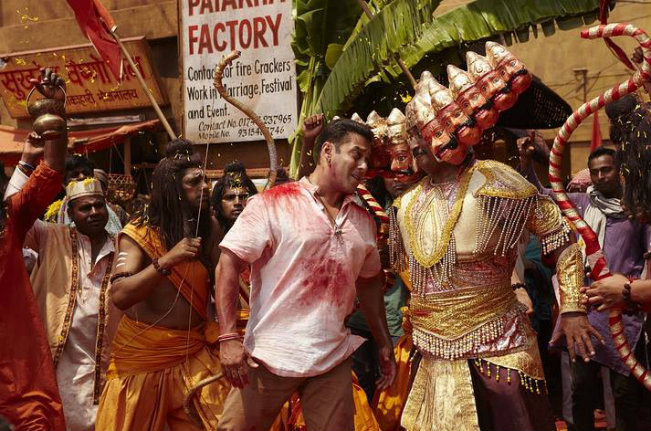 From the very first day of its release, everyone was expecting 300 crores as its lifetime collection from Indian screens but Bajrangi Bhaijaan has achieved the target in just 3 weeks and still have some more days to perform and collect more. Till now it was having Baahubali (Hindi) & Drishyam in competition and it has performed so well. From today the new Bollywood satirical comedy movie Bangistan is releasing which stars Riteish Deshmukh & Pulkit Samrat. Bangistan is not expected to hamper the business of Bajrangi Bhaijaan, that means still it have one more week. On 14th August, one of the much awaited movies Akshay Kumar starrer Brothers is getting released and now doubt movie is having huge buzz among audinece.
In its journey of 3 weeks, Bajrangi Bhaijaan has minted total collection of around 302.31 crores that includes 184.62 crores of its first week, 87.63 crores of the second week and rest 30.06 crores of its third week. On the last of its third week, it has done the business of approx. 2.25 crores with slightly lower response than last day.
| Box Office | Collection (India) |
| --- | --- |
| Day 1 | 27.25 Cr |
| Day 2 | 36.60 Cr |
| Day 3 | 38.75 Cr |
| Day 4 | 27.05 Cr |
| Day 5 | 21.40 Cr |
| Day 6 | 18.02 Cr |
| Day 7 | 15.55 Cr |
| Day 8 | 12.80 Cr |
| Day 9 | 19.25 Cr |
| Day 10 | 24.05 Cr |
| Day 11 | 9.30 Cr |
| Day 12 | 9.10 Cr |
| Day 13 | 7.10 Cr |
| Day 14 | 6.03 Cr |
| Day 15 | 4.11 Cr |
| Day 16 | 6.80 Cr |
| Day 17 | 9.07 Cr |
| Day 18 | 2.75 Cr |
| Day 19 | 2.63 Cr |
| Day 20 | 2.45 Cr |
| Day 21 | 2.25 Cr |
| Day 22 | 1.45 Cr |
| Day 23 | 2.73 Cr |
| Day 24 | 3.51 Cr |
| Day 25 | 1.15 Cr |
| Day 26 | 1.02 Cr |
| Day 27 | 0.96 Cr |
| Day 28 | 0.91 Cr |
| Day 29 | 0.67 Cr |
| Day 30 | 0.89 Cr |
| Day 31 | 1.07 Cr |
| Day 32 - Lifetime | 6.30 Cr |
| Total | 320.34 Cr |