Happy New Year 3 Weeks Performance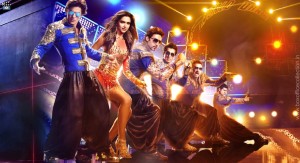 Happy New Year had a good third Wednesday at the box office as the film collected decent amount on its 20th day of release. After decent performance yesterday, now the film is on its third week end today and even today it showed up very good. The movie has trended quite well in its third week too. Happy New Year should cross Kick and Bang Bang by the end of fourth week or fifth week depending upon the number of shows it has in the subsequent weeks.
It has beaten many movies so far and stands among top highest grosser of 2014 till now. After two successful weeks third one has not been much profitable in account of other movies released. It has been affected due to loss of screens to The Shaukeens
in its third week.
HNY 21st Day Business at Box Office
Happy New Year has many records in its name and now the film has entered into its fourth week after today. Talking about today collection, the film performed well enough and managed to made a trade of around 0.89 Crore*. In overseas it was good in Pakistan and UAE but was weak elsewhere.
Happy New Year has dropped considerably in its third weekend primarily due to the release of new films. The reason are many as first being the third week for it which means much of the audience have seen the movie by now and those who haven't they are waiting now for watching something latest. Secondly, its non weekend time these days and every film are likely to face this situation at most of the times.