One Night Stand, 1920 London & Traffic 3 Days Total Collection
Recent Bollywood offerings that includes the romantic thriller One Night Stand, the thriller drama Traffic and horror 1920 London have released with bit hype among audience. Except 1920 London which was least anticipated, none of them has got decent response at box office. Earlier the highest hyped One Night Stand and the critics choice Traffic were expected to witness decent. But very surprising result has come out, the least anticipated reported the highest response.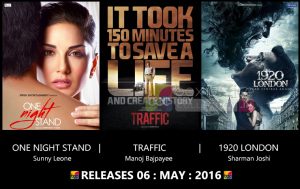 On the opening, the third installment of successful horror franchise 1920 has minted the amount of 2.50 cr across India whereas Sunny Leone starrer One Night Stand raked only 0.60 cr and Manoj Bajpayee starrer Traffic raked 0.40 cr. On the second day,
1920 London
has faced little dip and minted the amount of 2.32 cr and other two minted 0.65 cr and 0.70 cr respectively.
On the last day of weekend i.e. Sunday being holiday, all these have witnessed higher response than last 2 days. 1920 London has minted 2.91 cr as its third day collection while One Night Stand added 0.71 cr and Traffic added 0.88 cr to their accounts. After first weekend, their total collection are estimated to be around 7.73 cr, 1.96 cr and 1.98 cr respectively.