'Neerja' has Grossed around 125 Cr Worldwide!
Sonam Kapoor's 3 weeks ago released the second most appreciated film of the year so far, Neerja has showed impressive performance in its fourth weekend. The film has been released with decent hype but the super positive reviews of critics had boosted its hype to the next level. With strong word of mouth, Neerja grossed excellent business at box office and has become the second higher grosser Hindi film of 2016 so far; after Akshay Kumar's Airlift.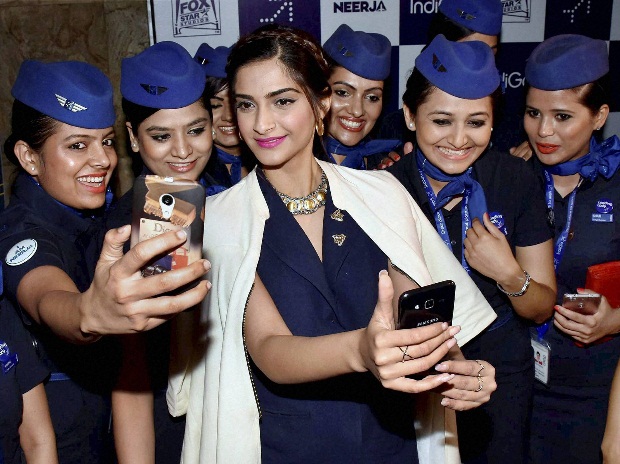 Ram Madhvani's directorial this true story based heroic Indian film is still flying high in buzz because of its strong content. The leading lady Sonam is being appreciated by everyone for giving best ever performance of her career in the film. Not only in India, but Neerja has witnessed tremendous response of audience across the globe. The film has grossed around 125 crores at worldwide box office including distribution shares till yet.
At domestic box office, Neerja had minted the amount of total 67.65 crores in 3 weeks, that includes 35.32 crores of first week, 22.43 crores of second week and 9.90 crores of third week. Now the film is running in its fourth week and already passed the weekend with impressive business of 3.45 crores, including 0.65 crore of Friday, 1.30 crore of Saturday and 1.50 crore of Sunday. Till the end of its 24th day, total domestic collection of Neerja is recorded as 71.10 crores.
| Box Office | Collection (India) |
| --- | --- |
| Day 1 | 4.70 Cr |
| Day 2 | 7.60 Cr |
| Day 3 | 9.71 Cr |
| Day 4 | 3.70 Cr |
| Day 5 | 3.41 Cr |
| Day 6 | 3.14 Cr |
| Day 7 | 3.06 Cr |
| Day 8 | 3.15 Cr |
| Day 9 | 5 Cr |
| Day 10 | 6.65 Cr |
| Day 11 | 2.12 Cr |
| Day 12 | 1.90 Cr |
| Day 13 | 1.85 Cr |
| Day 14 | 1.76 Cr |
| Day 15 | 1.15 Cr |
| Day 16 | 2.20 Cr |
| Day 17 | 2.69 Cr |
| Day 18 | 1.45 Cr |
| Day 19 | 0.90 Cr |
| Day 20 | 0.81 Cr |
| Day 21 | 0.70 Cr |
| Day 22 | 0.65 Cr |
| Day 23 | 1.30 Cr |
| Day 24 | 1.50 Cr |
| Day 25 | 0.56 Cr |
| Day 26 | 0.51 Cr |
| Day 27 | 0.44 Cr |
| Day 28 | 0.46 Cr |
| Day 29 | 0.24 Cr |
| Day 30 | 0.31 Cr |
| Day 31 | 0.54 Cr |
| Day 32 - Lifetime | 1.47 Cr |
| Total | 75.61 Cr |