SS Rajamouli's Baahubali 2 Proudly Completes 50 Days at Box Office
At the time, when mostly movies got vanished in just couple of weeks after release, the mammoth Baahubali 2 has proudly completed 50 days at box office. Since it's release, SS Rajamouli's this directorial following a new trend, which no one has ever witnessed in Indian cinema.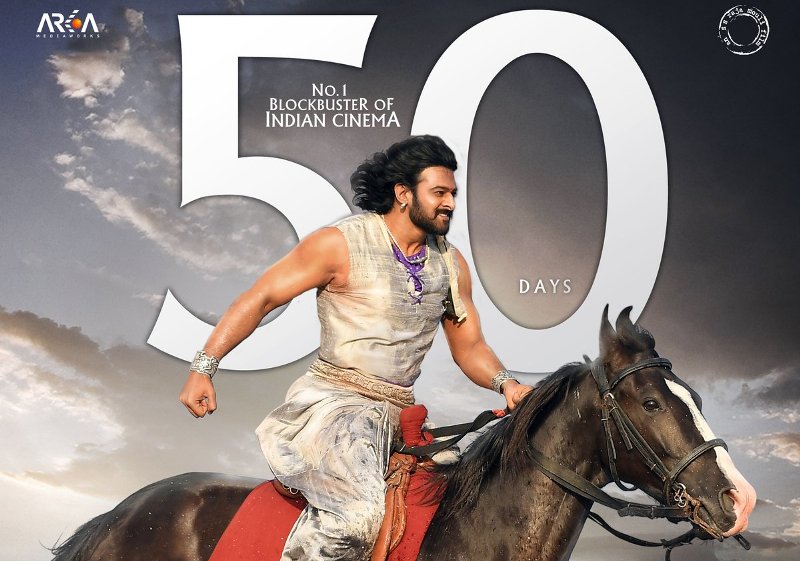 With it's greatness and incredible run at box office, the magnum opus Baahubali 2 has amazed everyone and dominated all the movies came in it's way. Also it has shattered all previous box office records of Indian cinema and emerged as the biggest blockbuster of all time in India.
Although because of the impressive run of Aamir Khan's Dangal in China, Baahubali 2 slipped to the second position among highest grossing Indian movies worldwide. But this epic action drama is positively expected to take it's top position back, when it will also get released there.
Keeping strong hold over the audience across the country, Baahubali 2 fetched the nett. business of 1023.75 crores in last 7 weeks, with 508.78 crores of Hindi and 514.97 crores of rest other versions.
This included, 534 crores of week-one 266 crores of week-two, 128 crores of week-three, 55 crores of week-four, 24.10 crores of week-five, 11.50 crores of week-six and 5.15 crores of week-seven.
Now Prabhas starrer Baahubali 2 has entered in it's 8th week and still has more than 1000 screens nationwide. On the 50th day i.e. 8th Friday, it minted the amount of 0.42 crore (Hindi 0.18 Cr | TTM 0.24 Cr) on it's  with usual drop due to new offerings.
With this, total collection of Baahubali 2 after 50 days of release, has become 1024.17 crores nett. (Hindi 508.96 Cr | TTM 515.21 Cr) at domestic box office.
Baahubali 2 (Worldwide Gross)
India- 1367.41 crores (1024.17 crores nett.)
Overseas- 341.75 crores (approx.)
Total- 1709.16 crores
TTM- Telugu, Tamil and Malayalam