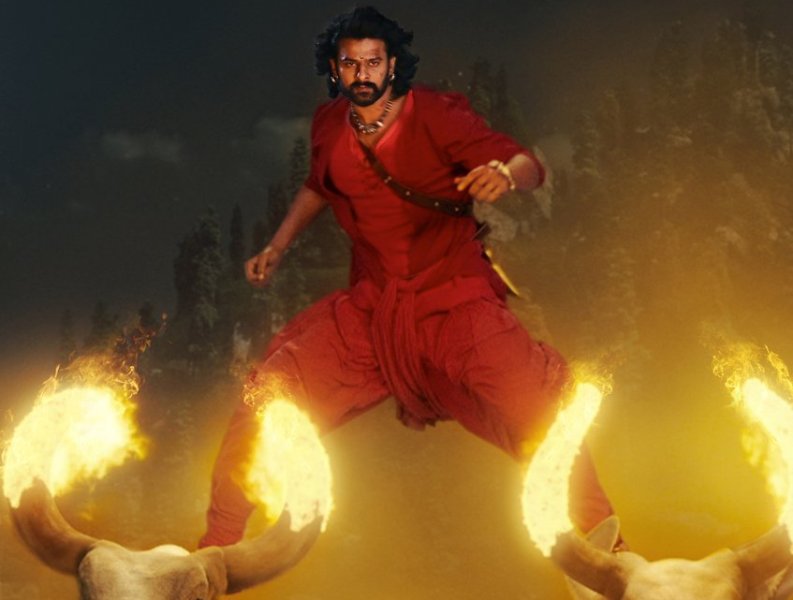 Maintaining a steady pace, India's blockbuster Baahubali 2 denied to leave the battle ground and proudly passed it's 8th week on a decent note across the country. At the time, when most of the offerings got vanished in a couple of weeks, this epic action drama still staying at box office after 50 days of release.
Ace director SS Rajamouli has raised the bars for upcoming Indian movies with his most ambitious venture Baahubali 2. With it's greatness, the movie impressed the entire world and received huge appreciation from everyone.
Second installment from the franchise Baahubali started the journey on an exceptional note and remained phenomenal throughout it's early weeks. Baahubali 2 dominated all the movies came in it's way and fetched the business of total 1023.75 crores in last 7 weeks, with 508.78 crores from Hindi and 514.97 crores combined from Telugu, Tamil and Malayalam screens.
This included, 534 crores of week-one, 266 crores of week-two, 128 crores of week-three, 55 crores of week-four, 24.10 crores of week-five, 11.50 crores of week-six and 5.15 crores of week-seven.
In the eighth weekend, this magnum opus remained steady and did the business of total 1.47 crore (Hindi 0.64 Cr | TTM 0.83 Cr) with 0.42 crore (Hindi 0.18 Cr | TTM 0.24 Cr) on Friday, 0.55 crore (Hindi 0.24 Cr | TTM 0.31 Cr) on Saturday and 0.50 crore (Hindi 0.22 Cr | TTM 0.28 Cr) on Sunday.
Then in weekdays, asusual Baahubali 2 recorded some drop and minted the amount of 0.30 crore (Hindi 0.12 Cr | TTM 0.18 Cr) on Monday, 0.27 crore (Hindi 0.11 Cr | TTM 0.16 Cr) on Tuesday and 0.24 crore (Hindi 0.10 Cr | TTM 0.14 Cr) on Wednesday.
On the last day of week i.e. Thursday, with further drop the movie added the amount of 0.22 crore (Hindi 0.09 Cr | TTM 0.13 Cr) to it's account. With this, the total 8 weeks collection of Baahubali 2 has become 1026.25 crores nett. (Hindi 509.84 Cr | TTM 516.41 Cr) at domestic box office.
Baahubali 2 (Worldwide Gross)
India- 1370.17 crores (1026.25 crores nett.)
Overseas- 345 crores (approx.)
Total- 1715.17 crores
TTM- Telugu, Tamil and Malayalam