Hunterrr & Dilliwaali Zaalim Girlfriend First Week Performance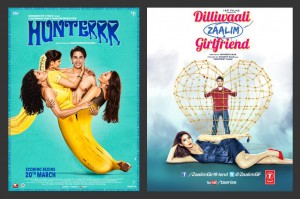 There are two small budgets but hypes movies that released last Friday on screens.
Dilliwaali Zaalim Girlfriend
is a small movie as it did not had much audience and is also the movie had not been promoted on the big scale which resulted in overall low collections and average response from viewers. The people had also not loved or liked the film much and it appeared quite a usual love story to them.
Film on totality in 1 week had failed to impress the audience over the box office. The total occupation of the film till its first week end stands at dull figures. On the other hand Hunterrr is one movie with some better response and figures as compared between both films. The film is based on adult comedy along with some adult level scenes. The film did not gained audience attention too much but still went up decent in first week with some favorable reviews from viewers.
It seems this month have been a home for small budget movies one by one every week. Total seventh day box office collection of Hunterrr is 0.60 crore making its total of 1 week to be 9.41 crores including the first weekend income of 5.78 crores and that of Dilliwaali Zaalim Girlfriend is 0.12 crore* aggregating its first week total to stand at 2.28 crores* including 1st weekend collection of 1.63 crores within.
We all know that both these flicks before the release had low public excitement and after the release the first week has now showed average results related to them. Hence both these are expected to shut down soon from screens