Rang Rasiya First Week Performance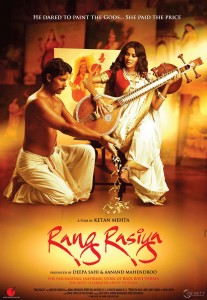 Released with positive reviews and lesser expectations, the intense cum sensitive drama
Rang Rasiya
is now surviving its 1st week on box office. It has now been one full week since this Bollywood movie has released on the theaters and cinema halls. Rang Rasiya lacks star power and high publicity that is why most of the audience did not know about the release of this film. Also the serious script and scarcity of entertainment factor in the movie was a major flip point for it and resulted in taking away all the audience to other movie The Shaukeens which is doing fabulous.
Rang Rasiya has covered up its production cost somehow and now when it is the time to make profit figures; it has become ultimately difficult for the film to sustain itself from the competition and lesser number of public.
Rang Rasiya 7 Days Total Collection
Though there are some negative issues regarding the film but still it is onetime watchable easily for those who love art, drama and romance holic. This unique location and script based venture takes the audience to a smoothing journey set in art world. Due to this effect 7th day box office collection of Rang Rasiya has rise up little better than yesterday and stands at near 11 Lacs making its 1st week total collection to amount 3.89 Crores.
With all the essence of true acting, some audiences have appreciated this effort and initial. Contrary to the fact that it is not a typical romance based movie still it comprises of romantic note between the lead star casts. It might sustain in the screens one more weekend or week at most.