ATC2 & DLKH 8th Day Collection Report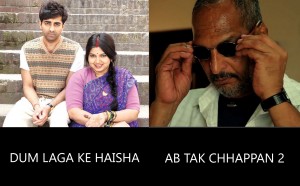 Dum Laga Ke Haisha marks the debut of Bhoomi along with the lead actor Ayushman Khurrana. The film which released on 27 February seems to have done decent performance at the box office in availing satisfactory figure but has came up as better option over the other co release. On the other hand Ab Tal Chhappan 2 had a disastrous week all over again with reviews not being kind either later. The collections read in a few crores from all major territories, as a result of this film has turned out to be one of the lowest grossing films this year.
The film could not attract any number of audiences and after the first week the business has began to become poorer due to new flicks today. In comparison to this one, the other Bollywood movie that released on the same day named Dum Laga Ke Haisha performed much better than the above movie but on the whole even this one has emerged out as a simple flick on big screen since last Friday.
Both the films saw low audience response and public occupancy due to non entertaining factors about both the releases and also Badlapur as a good option to the viewers to go and watch for. Today is the second Friday for both these flicks and due to being Holi festival plus Indo-West Indies match today most of the viewers were not present at all in theatres, the day brought only 30 lacs* for Ab Tak Chhappan 2 and Dum Laga Ke Haisha saw a bit better performance than new releases but still very average and closed down at 1.91 crore.
It is now new flicks which are now snatching business from these movies that hit the theatres today and made both these non powerful movies out of the race today in the most part of the cities.
Check: Dum Laga Ke Haisha & Ab Tak Chhappan 2 First Week Total Collection