Ab Tak Chhappan 2 3rd Day Performance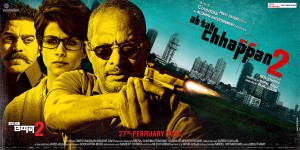 The much buzzed and awaited Hindi crime film
Ab Tak Chhappan 2
could stand on public expectations and film in total 3 days has not shown any growth or satisfactory profit. Everyone was waiting long for this film as it has been made as sequel of hit prequel Ab Tak Chhappan plus it star Nana Patekar after good gap that has always brought completely impressive and effective issue in his films. Earlier the film was in controversies due to some issues with the censor certificate and finally it received all the permissions from Censor Board and got an A certificate category for it.
Getting mixed reviews from audience and critics, the film released on Friday on box office with one more good film same day plus match on next day hence it affected the first weekend collection of Ab Tak Chhappan 2. Only Sunday has proved a bit relief but not good at all. Overall performance on its 3rd day of release is an average as compare to its screens.
Ab Tak Chhappan 2 Sunday Collection
It is Sunday today and to say it is third day for Ab Tak Chhappan 2, but the total income of three days now is lesser than the expected figures. Third day total collection of Ab Tak Chhappan 2 is around 1.54 crore making its 1st weekend income to be nearly 4.64 crores.
Anyhow, the film has still got some response from the action loving audience and appreciation for the performance. The story of film has been liked by many viewers and praised a lot but still not getting income due to non connective story for other viewers.
Friday: 1.5 Cr click here for report
Saturday: 1.6 Cr click here for report