Akshay receives huge appreciation for 'Airlift'
Raja Krishna Menon's directorial movie Airlift that was released last month, has completed its 24 days journey at box office with huge appreciation and craze of audience. This war thriller features superstar Akshay Kumar and Nimrat Kaur in lead roles. Both the actors have justified their characters brilliantly and being praised by everyone for that. Airlift has showed tremendous performance till yet with super positive reviews from critics as well as b-town celebs.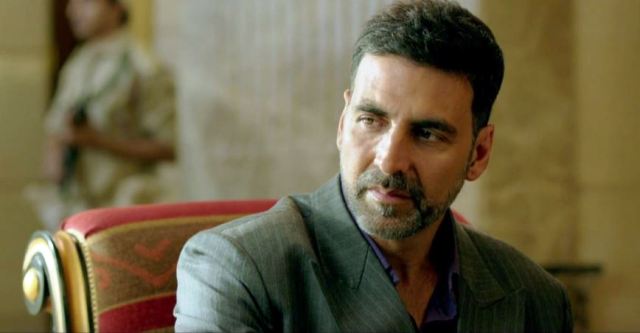 Airlift did the total business of 124.20 crores in its first three weeks on Indian screens, that includes 83.50 crores of first week, 28.79 crores of second week and 11.91 crores of third week. As per report, the film has grossed around 43.52 crores from overseas market and over 215 crores worldwide including distribution shares. It has registered many records to Akshay's career so far and still heading to set new height for him.
The movie is now running in its fourth week and grossing low at box office due to new releases. On  Friday, it had faced drop in its business graph and raked the amount of 0.51 crore*. On Saturday being weekend, Airlift witnessed little up and added 0.65 crore* to its account. On Sunday being holiday, it has done the business of 0.72 crore* as its 24th day collection. Till the end of the day, total collection of Airlift is recorded as 126.08 crores* on domestic box office.
| Box Office | Collection (India) |
| --- | --- |
| Day 1 | 12.35 Cr |
| Day 2 | 14.60 Cr |
| Day 3 | 17.35 Cr |
| Day 4 | 10.40 Cr |
| Day 5 | 17.80 Cr |
| Day 6 | 6 Cr |
| Day 7 | 5 Cr |
| Day 8 | 4.50 Cr |
| Day 9 | 6.50 Cr |
| Day 10 | 8.26 Cr |
| Day 11 | 2.53 Cr |
| Day 12 | 2.61 Cr |
| Day 13 | 2.40 Cr |
| Day 14 | 1.99 Cr |
| Day 15 | 2.03 Cr |
| Day 16 | 3.04 Cr |
| Day 17 | 3.34 Cr |
| Day 18 | 1.04 Cr |
| Day 19 | 0.91 Cr |
| Day 20 | 0.83 Cr* |
| Day 21 | 0.72 Cr* |
| Day 22 | 0.51 Cr* |
| Day 23 | 0.65 Cr* |
| Day 24 | 0.72 Cr* |
| Day 25 | 0.43 Cr* |
| Day 26 | 0.35 Cr* |
| Day 27 | 0.31 Cr* |
| Day 28 | 0.24 Cr* |
| Day 29 | 0.14 Cr* |
| Day 30 | 0.15 Cr* |
| Day 31 | 0.22 Cr* |
| Day 32 - Lifetime | 0.18 Cr* |
| Total | 128.10 Cr |