Baby Promotion on Comedy Nights with Kapil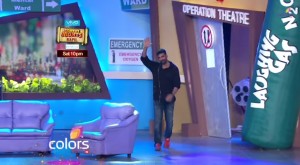 Baby is soon to hit the theatres near Republic Day, so promotions play a great role in affecting the audience or attracting them towards the movie. And on the positive note, we have seen that Baby is getting too good promotional footage due to overwhelming response from the viewers so many days before its official release no social media already.
As the lead actor of this film Akshay Kumar is giving his best effort to promote the movie everywhere possible he is recently seen in the hit television comedy show Comedy Nights with Kapil which is deemed to be a big platform for all the latest movies to promote themselves. Whole episode was based for promoting Baby and it seems that this will result surely as a big advantage as most of the people whether families, kids or youth watch Comedy Nights with Kapil every weekend. So seeing Akshay Kumar promoting baby over there has made audience more excited & anxious for its release. He was seen giving bit brief about his film on the show which increased viewer's eager and whole episode came as big entertainment again.
Episode will be telecast on 10 January 2015 only on Colors TV at 10:00 PM
SNEAK PEEK >>
He is providing his 100% for making the audience attentive towards his upcoming film and to the favorable note audience is also very excited for the film. We can see Akshay promoting his movie on television shows, social media, and air channels and in reality shows too. The high note promotions are indicating good way for Baby as audience is aware of this film releasing soon and might result in extra addition to the favorable opening of the film.
As we all know and accept that ultimately public is the real judge and critics for any movie so let's wait to look into how the public is expecting from the film and what is their response from Baby.